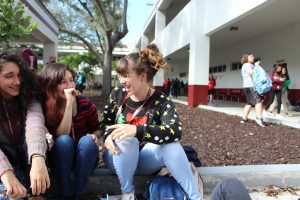 On Wed. Dec. 12, winter spirit week began with the theme "Warm Up Wednesday." Students dressed up in ugly holiday sweaters to show their school spirit. Activities at lunch time included musical chairs and a dance circle where anyone could gather around and show off their dance moves in the middle of the crowd of people. Leadership students hyped up the students by hosting the lunch time events and playing holiday music from speakers.
"I think it was cool to have a second spirit week this year. Homecoming spirit week is always a fun, positive week at school and I enjoy coming [to school] when the energy of the students is lighthearted," senior Madison Leal said.
On Thurs. Dec. 13, the theme of the day was "Toasty Thursday." Students showed up to school wearing their fuzziest, funky socks. Around the gazebo where SGA placed the speaker, a dance circle formed similar to before and was a huge hit at lunch, attracting a huge crowd.
"Wearing fuzzy socks to school is my favorite things to do on a cold day. I wore socks with snowmen on them," senior Karter Cooper said.
On Fri. Dec. 14, the final day of winter spirit week, the theme was "Frosty Friday." Everyone showed up to school decked out in white from head to toe. Lunchtime activities mimicked Monday's events by including entertaining rounds of musical chairs and a hype dance circle. Students got into the holiday spirit when songs such as "Jingle bell rock" and "All I want for Christmas" made appearances.
"This was a fun day because many people participated. Most everyone owns a white shirt or some other white article of clothing in their wardrobe so it didn't involve the extra step of going out to buy something specifically for spirit week," junior Carson Campbell said.
After school on Friday, Marjory Stoneman Douglas student government put on their very own winter carnival in the courtyard. After posting on social media to advertise for the event, many showed up to the carnival as fake snow filled the air and students could participate in carnival games such as polar bear, ring toss, stand a bottle, down a clown, slam dunk, tic tac toe, traffic light, magnetic balloon, and fish bowl were included. Snowcones and popcorn were also being served to those to wanted.
"I was so stressed planning it because I wanted everything to work out and I wanted everyone to be happy but with the help of my school spirit committee and classmates it turned out perfect," senior recording secretary Allie Epstein said.
Stay tuned for a winter pep rally when school returns from winter break.