Junior Hannah Levine switches to online school in pursuit of figure skating
Elama Ali
January 11, 2019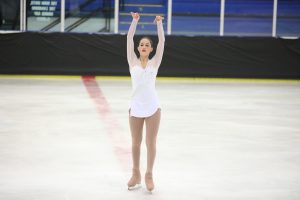 Days of gliding on the ice, turning and jumping, help her to forget every worry in her life. For junior and ice skater Hannah Levine, the ice is her best friend, helping to comfort her and give her the unique experiences of feeling free and unstoppable.
"When I was little, I would go to the public skating sessions with my dad and my family, so he suggested that I start going to group lessons," Levine said. "I started private lessons after a while, and I enjoyed it, so I stuck with skating."
Levine started skating at 6 years old, improving her skills with each passing year. Representing the Panthers Figure Skating Club at competitions, she practices at the Panthers Ice Den five days a week, three hours on the ice and one hour off.
"When I'm off the ice, I either work out or do my ice jump class," Levine said.
During off season, Levine works on her skills, such as advanced two foot spins and slide toe hops. With her competition season starting in April, Levine has to practice extensively months before, spending over six hours a day at the rink from the months of January to April.
"We get new choreography and put new routines together for competition season," Levine said. "At the end of the season, we have a big competition, and I usually have to travel out of state for that one."
Although Levine dedicates a vast amount of time to figure skating, it was not her main concern and focus in her life. In October, she decided to switch to an online school because it gave her more time to practice figure skating, yet still allowed her to focus on her academics with less stress.
"I saw it coming," Hannah's mom, Alison Levine said. "She was about to quit skating because she couldn't balance both. When she presented me with a solution, it just made sense."
Online homeschooling programs, like Florida Virtual School, are very flexible and allow Levine to spend more time at the skating rink. She can choose the time she focuses on her classes, consisting of Advanced Placement Physics, AP Chemistry, AP Language and Composition, AP U.S. History, AP Statistics and AP Calculus BC, and plan it around her rigorous skating schedule.
"Online schooling gives me more time to do the classes that I want and keep the sessions that are less crowded during the day, rather than the ones that are filled in the afternoon with all the kids skating after school," Levine said.
Levine also continues to participate in extracurricular activities at MSD including DECA, Key Club, NASAGV and NHS. In order to attend after school meetings or events, she leaves the rink half an hour earlier to make it on time.
"It's not really that time consuming or hard for me to get to school to attend club meetings," Levine said. "I'm glad I can still participate in clubs with my friends while taking school online."
Though ice skating is Levine's passion, she never intends on making skating a job in her future. She has always wanted to pursue engineering as a career because she enjoys math, science and business-related subjects.
"I want to go to college for engineering to have it as a job, but I also know that coaching is always a side job that I can have," Levine said. "In college, I want to coach to still let skating be a part of my life."
According to Levine, the switch to virtual school has been an amazing. Both Levine's parents and friends offered their complete support when they realized she would be happier attending a virtual school, motivating her to follow her desired path.
"I'm proud of her for making a decision that she feels will benefit her and will help further her education in a way that she feels is best for her," junior Emily Wolfman said. "She really took it upon herself to make a decision that would further her future. Although it's not a decision many people would choose for themselves, I'm glad that Hannah is doing something that she enjoys."
For Levine, self-drive played a major role in her achievements. She believes her success not only comes from the love and stimulation from others, but also from the positive inducement that she gives herself.
"I like to look back at all of the difficult times, and then realize how amazing I feel on the good days on the ice," Levine said. "It motivates me to keep going, no matter how hard it gets, because in the end, it all really matters on how I feel when I excel. When I get a high score at competitions or learn a new skill, I know it's all worth it."
Levine participates in various competitions which includes the Florida Open, Sunshine State Games, Miami Open, Labor Day Invitational, Southwest Florida Fall Classic and the South Atlantic Florida Fall Classic. She's won medals ranging from first place to fourth place. For Levine, the next big event coming up is a holiday show in December that focuses more on holiday fun, skating with friends and coaches rather than competing.
"The holiday show is one of my favorite times of the year," Levine said. "There is Christmas music, and I have fun with my friends."
Levine's favorite part about figure skating is doing jumps and learning new skills; excitement and happiness rush through her when she learns something new. However, the aftermath of skating leaves its toll on her energy.
"My least favorite part about it would have to be the exastution that runs over my body," Levine said. "I get tired very easily now, and most of the time you can hear me talk about how tired I am at the rink, but it always feels great to know that I did it in the end." 
When performing a passionate-filled activity, Levine believes it is important to have support from people she cares about. Along with her parents and friends from school, Levine has her friends at the rink and her coach as her support system to inspire her to continue figure skating.
"We all know how it feels when skating, the good and bad parts of it, which is why it's helpful to have them supporting me and being right there next to me," Levine said. "If I feel tired and try to give up, I know I can talk to them and that they can uplift my mood."
Figure skating will always be apart of Levine's life, even when she returns to MSD for senior year to graduate with her class. The feeling that skating gives Levine has influenced her to keep her passion for the sport close to her as the years pass by.
This story was originally published in the January 2019 Eagle Eye print edition.