Review: Dystopian thriller "Bird box" breaks records on Netflix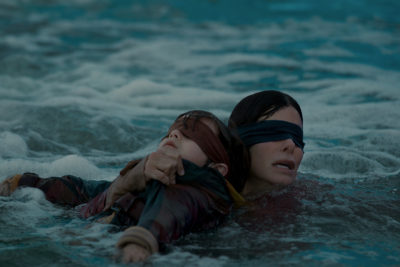 Todd Hewling
January 23, 2019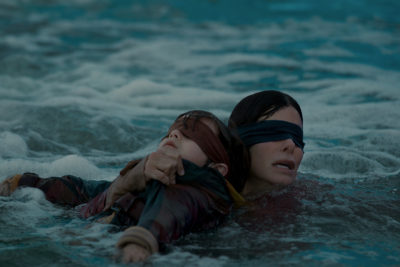 Bird Box is a 2018 American post-apocalyptic film directed by Susanne Bier from a screenplay written by Eric Heisserer, based on the 2014 novel of the same name by Josh Malerman. In July 2017, it was announced that Netflix had acquired the rights to the book and would develop the film, starring  Sandra Bullock and John Malkovich. Having a limited theatrical run beginning on Dec. 14, 2018 before streaming on Netflix on Dec. 21, a week after release, Netflix reported that Bird Box had the biggest seven-day viewership for any of its original films to date, with over 45 million accounts and views defined by the company as the film streaming for over 70 percent of its time. At this time is when the movie truly started to gain traction and acquired mass interest on social media platforms with the film's largely interpretive nature leading it to mass success and accrued interest among viewers.
The storyline follows a woman named Malorie, played by Sandra Bullock, who, along with a pair of children dubbed Boy and Girl, must make it through a forest and river blindfolded to avoid supernatural entities which cause people who see them to either die by suicide or force others to look. The story garners its name from the conflicting themes of isolation and escapism that can found riddled throughout the film. Whereas there is a physical birdbox that assists Malorie on her journey (a utility to warn about the impending presence of the entity), it also services as an allegory for our characters. They are creatures that crave freedom, forced to live within the confines of their social climate, hiding from their own personal demons with only occasional glimpses of light depicted through the safe space of boxing oneself in. With a name like this, it's no surprise that the film deals heavily within themes of isolation and alienation on a journey of self-discovery, illustrated by Malorie's journey with her children.
Our protagonist is one that is constantly battling with her inability to love and connect and her endless yearning to. She epitomizes life in a modern era of technology where ironically society has never been more connected but also has never reported such high amounts of depression. Malorie's cynicism is put on full display throughout her journey, revealed through flashbacks to the inception of the incident and the introduction of the lovecraftian creatures. This sets the stage for the remainder of the film, transitioning between flashbacks to Malorie's life stuck with a group of survivors struggling to overcome the ominous threat presented, and present day where Malorie makes her way down their infamous river toward hope of salvation.
This setup does an excellent job not only introducing an interesting concept but telling a social commentary on the world as it is today. Though never revealed in the movie, it is believed that the entity presented shows its victims their darkest fears and manipulate them by manifesting as each individual's greatest sadness or loss. In this way the viewer is just as blind as the characters with the intention to emulate these demons. We are blind to them and so were our characters until forced to reconcile with them through these entities. It is only by refusal to neglect these issues and confronting our demons can we overcome them and stop ourselves from ultimate self-destruction. Though the movie is suffocated with filler and never truly lives up to its intriguing potential, it still finds itself a thought provoking film that will challenge your outlook on the status quo.