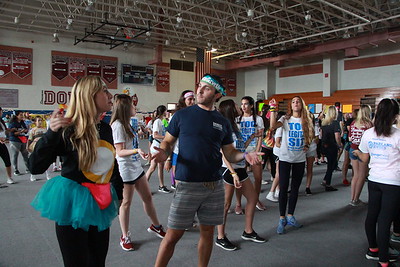 Dance Marathon at Marjory Stoneman Douglas, an organization that raises money for pediatric cancer will take place on March 16. The week leading up to the event will be filled with spirit days to encourage and excite students about the event.
"We want the whole school to be involved, and get excited so hopefully they [all] come to the marathon," Dance Marathon Sponsor Brittany Sinitch said.
Monday, March 11, will be "meme" day, where students and teachers are encouraged to dress up as their favorite online memes. Tuesday is "tourist" tuesday, Wednesday is "who's who" day, where students can dress up as their favorite administrator or teacher, Thursday is "throwback" to middle school, and Friday is going to be "FTK" or "for the kids" day which entails bright, neon colors.
"We have an exec board, and they thought of days they thought the student body would like. I think the who's who day, where students can dress up as their teachers is going to be hilarious," Sinitch said.
Even if a student is not signed up for Dance Marathon, they can still participate. If they do not plan on contributing money or fundraising, they can buy tickets at the door on the day of the marathon. 
"I always say that cancer does not discriminate, so that the people fighting for a cure should not discriminate either, just because someone is not signed up for Dance Marathon doesn't mean they shouldn't participate in this movement," Sinitch said.
The morale chairs for Dance Marathon have been working extremely hard on making the dance for the fundraiser fun and upbeat. They came up with the dance all by themselves, and incorporated many songs into the routine.
"Coming up with the dances was difficult at first, but once we got the hang of it it the moves came easily. I am looking forward to teaching everyone the dance, and hope everyone loves it as much as I do," senior morale chair Sarah Lippel said.
After a successful Dance Marathon last school year, the board has high hopes for next week's event.
"Anyone can come to the marathon, you didn't have to fundraise. I think that once people get there, they are going to realize how special it is and how important it is to stand for those who can't, we raised $66,000 last year and it is going to be a marathon they never forget, hopefully our school can make history again," Sinitch said.
On Saturday, Dance Marathon will take place in MSD's gym, and registration starts at 11 a.m, followed by opening ceremonies at 12 p.m.