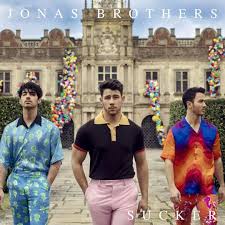 On Feb. 28 millions of fans were elated when the Jonas Brother revealed that they were producing a new single after many years apart.
Personally, I think the hype does not meet the quality of music they produced. I wish they would have released a song that identified with the original sound of the Jonas Brothers.
However radio stations who have been playing the single non-stop have differing views on the song. The comeback single is aiming for a No. 1 debut on next week's Billboard Hot 100 chart (March 16).
Joe Jonas recently has been the singing lead in the band DNCE who wrote the hit song "Cake by the Ocean" in 2015. He is engaged to Game of Thrones actress Sophie Turner. Nick Jonas has been touring solo and recently married his wife, actress, Priyanka Chopra.
Oldest brother, Kevin Jonas, has backed off the limelight to raise his two daughters with his wife Danielle Jonas.
The music video included the famous faces of the Jonas Brothers partners, which premiered Feb. 28.
The music video was the best part of the release of their new single. Not only did we get to see the trio back together, but I felt that the inclusion of their wives and fiance's was an appropriate way to reintroduce themselves to their fans, considering how much has changed since they first debuted as young teenagers.
The last album released by the trio before their hiatus was in 2013 titled "LiVe" which was a recording of their live performances. Their hit songs include "S.O.S", "Burnin' Up", and "Year 3000". The Brothers rose to fame in 2006 when they released their first album "It's About Time".
They adopted roles on a Disney channel show called "Jonas" were they basically took on the roles of playing themselves.
The band's fan base of teenage girls has now grown up to be young adults, which we expect to reflect in their new music style.
An official Instagram page for the Jonas Brothers was set up the same day when their single was released and already has 2.9 million followers. This has raised speculation that the brothers may be releasing an album followed by a tour.
I am excited to see what else the brothers will release and I am hopeful that their new content will bring back the nostalgia of my elementary school days and Disney channel in its prime. All three boys are very talented, each gifted with a distinct voice, and because of their blood relation it is possible that they may be the strongest bond we've seen a boy have since Hanson.
There is a large fan base already for the group, and with new, younger ears listening to the radio, the bands popularity is bound to grow even more with today's pop culture.