Students and faculty learn trauma coping skills at mind, body, medicine workshop
Kaleela Rosenthal
April 5, 2019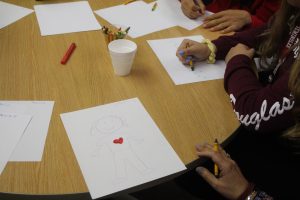 *The story was co-written by Kaleela Rosenthal and Farrah Nickerson
On the "Day of Service and Love," AP World History teacher Diane Wolk-Rogers led a mind, body, medicine Workshop for Marjory Stoneman Douglas High School students.
The participants were taught how the mind and body can work together to deal with stress by developing relaxation skills. These skills would be used to reduce stress by helping to shut down the lower limbic, or as Wolk-Rogers calls it "the reptile" part of the brain. By engaging the thinking and reasoning part of the brain, it allows for concentration and relaxation.
"Whenever I feel super stressed or even just anxious for a test, I can just do any of the techniques," sophomore Caroline Curtis said. "It helps me stay calm and focused rather than having my mind run everywhere."
A total of 45 students attended the four hour skill development workshop.
"I feel like I've been having a lot of trouble focusing in school sometimes, so I just wanted to find a way to handle it; find ways to relax," sophomore Ben Galper said.
Throughout the workshop, students were taught techniques such as soft belly breathing and how to shake and dance the tension off oneself. Imagery techniques were used to help students find their "happy place" or at least a safe and quiet space to go to in times of distress. When someone visualizes a calming place, it creates the same biological effect as if it actually being there.
"I went through the program last year and really enjoyed it, and so I thought since I went through it, I'd be able to share what I learned with the students that are here," Donna Levy said.
These techniques have helped students and faculty alike develop coping mechanisms to use in their day-to-day lives.
"I'd been using these mind body skills in my classroom, and I see such positive reactions from my students," Wolk-Rogers said. "Since this is a day of service and love, I want to teach it to more kids so they can go out to teach it to other kids."
After going to advanced training at The Center of Mind Body Medicine in Washington, D.C., over the summer, Wolk-Rogers wanted to bring the program to MSD. Wolk-Rogers feels that mind body medicine helped her to function and cope with returning to MSD to teach this year.
Wolk-Rogers hopes to continue helping students through MSD's newly established Mind, Body, Medicine Club and through future workshops for students and faculty. The Mind, Body, Medicine Club meets every Wednesday in room 428.
This story was originally published in the April 2019 Eagle Eye print edition.