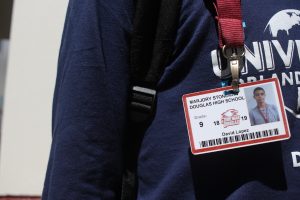 This school year, a new wave of freshman entered Marjory Stoneman Douglas High School. High school is a major change from middle school in terms of classes, workload and population. It is normal for freshman students to feel nervous or anxious, as they often find themselves daunted by a new setting. However, the transition to high school opens the door to freedom as students are exposed to new experiences and the chance at self-discovery.
"I like that there is a lot of independence, and that I get to see all my friends every day," freshman Sofia Rothenberg said.
The wide variety of electives, clubs and sports allow students to explore their passions, while simultaneously working under the pressure of maintaining grades. High school gives students an inside look on how to continue on the path of success in the real world.
"I love how involved everyone is at school," freshman Camila Escobar said. "I see people constantly stay after school for sports and club meetings. It just feels like one big family."
The transition to high school has always been filled with anxiety and doubts. However, this year has brought a new meaning to the usual "freshman experience." Regular nerves have been heightened for some students, who were unsure of what to expect upon entering the school after the Feb. 14, 2018 shooting.
"I think that going into freshman year at Douglas was harder than going into freshman year at other schools," Rothenberg said.
That day has brought MSD students together with an unbreakable bond of grief, love and hope for a better future. This is an experience that the freshmen were not a part of, which has left some students feeling like outsiders and unsure of how they would be treated this year.
Not being able to understand what every person at MSD has gone through and experienced has also affected the way freshmen interact with the grades above them. The boundary between what questions can be asked or what comfort can be given is shaky at best.
"I do my best to be there for them and know what I can and cannot say," Escobar said. "Sometimes I find it difficult because I don't know exactly what they and everyone at the school are going through, but I just have to adjust and be empathetic."
This school year has also been troubled with media presence and technological difficulties regarding alarms and monthly drills that alter the high school experience for some individuals. 
"Sometimes it feels like the school isn't truly safe," freshman Zack Stevens said.
Other students are more at ease with the implementation of greater safety measures, such as practicing code red drills and increasing the amount of police and security presence on campus. The security staff has 12 campus monitors, three security officers and four school resource specialist provided by the Broward County Sheriff's Office.
"There are a lot of security guards around the school, which helps to create a safer environment and feel," freshman Isabel White said.
However, the adjustment to the new environment of MSD has not been too challenging for some. Some feel the atmosphere around campus is generally more supportive, which helps alleviate anxiety and tension with each day at school.
"What I like about Douglas is how the teachers make you feel welcome, and they really support you and want you to succeed," freshman Addie Block said. 
A "normal" school year at MSD is difficult to achieve through all of the chaos, with both internal and external obstacles varying for each student. Unfortunately, this year may be the most altering and emotional one for the class of 2022, but with the support of friends and teachers, as well as active safety measures, the endeavor into high school at MSD can hopefully be riddled with cherishable memories.