"Guac: My Son, My Hero" performed as a tribute to Joaquin Oliver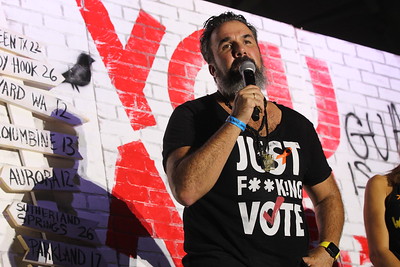 Leah Ronkin
October 4, 2019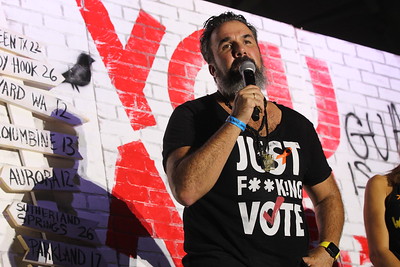 On Friday, Sept. 20, Manuel Oliver's latest protest project, "Guac: My Son, My Hero" was performed at the Colony Theater in Miami Beach. Following the release of several art projects dedicated to his son, Oliver presented a one-man show that both encaptured the life of Joaquin Oliver, known as "Guac" by friends, and protested against gun violence. The show mixed several mediums including video, stand-up comedy, live painting and theatrical performance.
Before the show began, members of Shine MSD put on a pre-show consisting of three original songs, "Shine," "Wake Up America" and "The Children Will Lead the Way." The latter two songs will be on an album entitled Wake Up America that will feature several student-written works and will release on Oct. 23, 2019. 
After the Shine MSD introduction, the show began with Manuel Oliver sitting on a stool and reading from a storybook. He told the story of a "prince," who was a stand-in for Guac. After some time, a man came on stage and told Oliver that there had been a shooting at his son's school.
The story then changed to a retelling of Guac's life story, from birth to death. It demonstrated elements of his personality as well as his political activism. The segment ended with a description of the events of the 14th, leading into the story of how Guac's family coped with his death and fought for his legacy.
At the conclusion of the show, Oliver invited the rest of his family to join him on stage. He then invited the audience to play air guitar, something that Guac was known to do often.
Throughout the entire performance, a loud bell would ring every 15 minutes. This represented the statistic that every 15 minutes, someone dies because of gun violence. The ringing would temporarily stop the show as a symbol of solidarity and loss.
With a combination of comedy and tragedy that made the audience a part of the story, Oliver produced a show that could relay his message to anyone of any background, no matter their involvement with Marjory Stoneman Douglas.
"It's something that if you don't know what we went through can make you realize why lots of alumni and current students are fighting so fervently for change," student performer and audience member Arianna Otero said.
This performance wholly represents Manuel Oliver's drive to fight for his son's legacy in the way he knows best. Despite experiencing such great loss, he still tries to be the best father he can be.
"I lost my son. My son did not lose his father," Oliver said on the website for the show.
In the coming year, the show will tour the United States. By sharing this show, Oliver hopes to spread a political message that transcends our city of Parkland.