Project Grow Love decorates garden to bring holiday spirit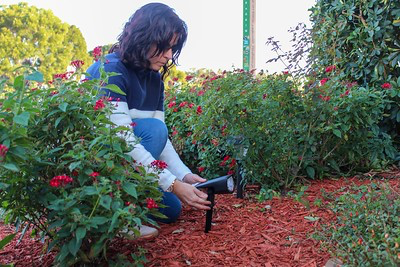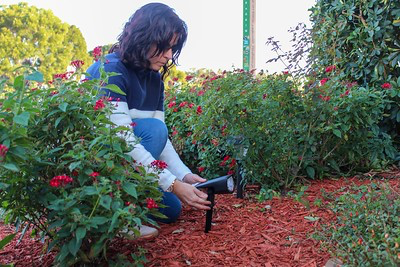 "Project Grow Love" has been setting up Christmas lights and decorations in the garden since Nov. 30-31, the weekend of Thanksgiving break. 
AP Psychology teacher Ronit Reoven and former student Victoria Gonzalez founded the garden and "Project Grow Love" in 2018. It's purpose was to promote healing and bringing the community together after the tragedy that occurred on Wednesday, Feb. 14, 2018. 
"The garden has always been something I like to look at from time to time and watch grow," junior Melodie Vo said. "There's always a new array of flowers being planted".
Throughout the school year, there have been a multitude of events for community members to maintain and replenish the garden. This recent holiday resprucing of the garden was done by Reoven and Gonzalez, along with Debate teacher Jacob Abraham and Reoven's two children. 
"I wanted it to be looking as pristine as it [could] for the holidays. The holidays mean different things to different people; for some it is the season of remembrance, joy, giving and being kind," Reoven said. "I really didn't want the garden to be forgotten".
The materials used in the holiday renovations, such as the festive lights, were purchased by Reoven from Amazon and Walmart. The seventeen angels in the garden were also replaced with new and improved versions. 
"We are honoring the seventeen angels, and keeping them in our memory and I feel like it is important for them to still have that special feel even during the holidays, in the time where everything is so festive," Reoven said.
The decorations will remain in the garden for the entirety of winter break.