January's Artist of the Month: Olivia Blaker
Ivy Lam, Senior Feature Editor
January 31, 2020
Olivia Blaker, a junior at Marjory Stoneman Douglas High School, has been doing art her whole life. She was born in Stony Brook, New York and moved to South Florida when she was a baby. Ever since then, she has grown up in the Parkland community, attending Park Trails Elementary School and Westglades Middle School.
"I've been drawing since I was little, and I've been taking art classes since middle school," Blaker said. "I try to spend a few hours [on art], like two to three times a week on a piece."
In middle school, Blaker was chosen to paint a banner for the school's DECA program. Additionally, one of the many art projects she produced was hung up at MSD when she was an eighth-grader. From an early age, she's been intrigued by realistic art, which she excels at in her 2D Art 3 Honors class this year.
"Olivia is a very talented student. She's always worked very hard on excelling in art and enhancing her artistic abilities and techniques," art teacher Jacquelene Lieberman said. "I'm very proud of the work that she's created so far in my class."
For the second semester this school year, art students were encouraged to use real people as inspiration for their new creations. Students in numerous art classes, such as those taught by Lieberman, are constantly challenged to exceed their own expectations and not only grow as artists but as individuals.
"There's no rules to art, it's just really fun, and [has allowed me to] see colors differently from other people," Blaker said. "The project I'm doing right now [is] called the memory project. We have to draw pictures of these orphans from Russia and send the [finished product] to the orphanage."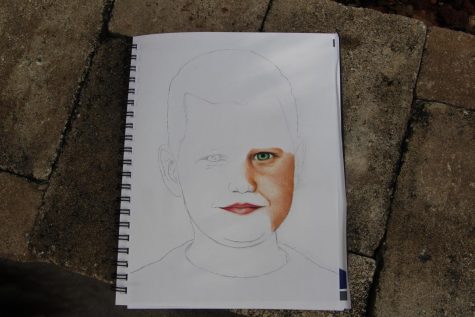 The junior mainly works with colored pencils of various shades and colors to create small details in her art. The events going on in her life, her feelings at the moment, and television shows she's currently obsessed with inspire the concepts behind her artwork. Her art teacher, Jacquelene Lieberman, occasionally displays her pieces around the school, while her classmates and friends frequently compliment her drawings.
"I would describe Olivia as an extremely talented girl who uses her creativity to express herself through her art. She's a dedicated, driven individual who always wants to be the best at her craft," junior Nick Hernandez said. "Olivia always puts 100% of her time and effort into any project she's working on, and she has made some amazing pieces."
In addition to her hard work in art, Blaker is heavily involved with the color guard in the Eagle Regiment marching band and the exclusive World Guard. She balances school, art and extracurriculars by completing her homework in a timely manner, attending all her extracurriculars and using all the free time she's given to concentrate on drawing realistic pictures.
"She's a very energetic person [and] a really good friend. I've known her since third grade and we've been friends ever since," junior Haleigh Grose said. "She really likes to do realism [art] and she's really good at making her art look as real as possible."
Blaker strongly believes that art has impacted her life and helped her appreciate things more than she used to. She loves the satisfaction a finished product gives her and would like to pursue art as a hobby and possibly sell a few original pieces on the side when she's older. Blaker will be placed into AP Art during her upcoming senior year and will continue to create art for years to come.