February's Musician of the Month: Ayla Bogart
Ivy Lam, Senior Feature Editor
February 20, 2020
"I've always known music. I have loved music since I was born," Bogart said. "I was raised listening to music all the time. My grandfather is a concert pianist and my dad plays a little guitar. I've just been raised around music my entire life, always singing, performing, dancing, acting, everything."
Bogart began her journey as a dancer at three years old when her mother enrolled her into a dance class. Her favorite styles include hip hop and contemporary. Yet when she entered high school, Bogart focused less on dance and more on advancing her skills in singing and drumming.
During her sixth grade year at Westglades Middle School, Bogart became a percussionist in the band program there. During the course of her five-year journey in band, she has earned eleven solo and ensemble superior medals and has been selected into the all-county bands. Along with her development with percussion, she has visited several locations to perform with MSD's Eagle Regiment and Wind Symphony.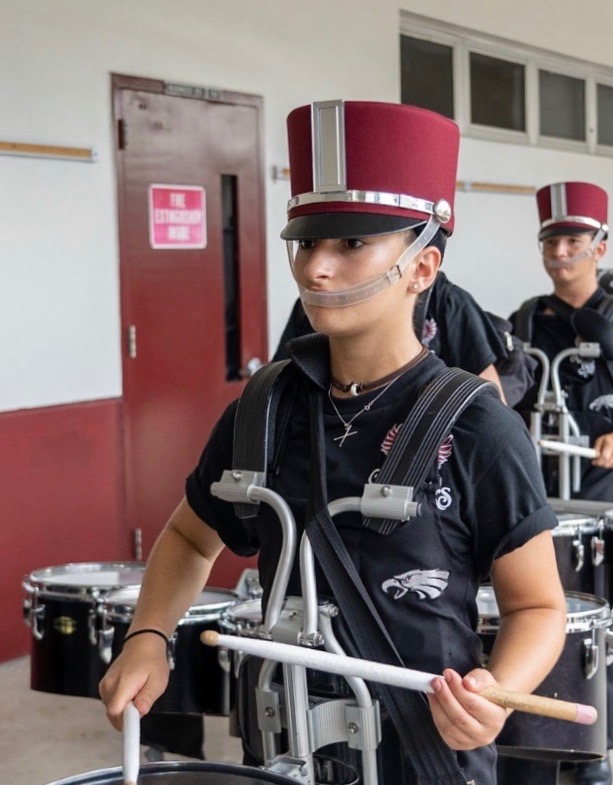 "Last year, I had the amazing opportunity to perform at the Midwest Clinic in Chicago. [That same year,] I went to Tampa for marching band and we won state championships," Bogart said. "I performed at the Super Bowl with band [this year and] I have had my own singing gigs at restaurants and open mic nights. Next year, I will be performing in the London New Year's Day Parade."
Bogart is heavily involved with MSD's band program, as she is a part of the Eagle Regiment marching band, Indoor Percussion, jazz band and Tri-M Honor Society. She loves providing entertainment through her performances and moving people with her emotions and facials.
"I sing when I'm happy [and] when I'm sad [or] angry, I always use music to get through everything," Bogart said. "I have learned leadership, responsibility, and independent work ethic. I relate most of what I do to music in the way that I sing through my issues."
To balance school and music, Bogart undergoes late nights of doing schoolwork after competitions, studying while practicing and using personalization as her main source of homework time. She's learned to multitask and budget all of her time overall.
"I met [Ayla] first through an organization called Indian Princesses, where we go camping with our fathers," junior Alexa Palen said. "Ayla is the most talented musician that I know. Her outgoing personality lights up the room and is uniquely extraordinary."
In addition to her progress as a percussionist, Bogart thrives as a student. She takes multiple honors and AP classes, like AP Psychology and AP Physics, in her ongoing sophomore year.
Bogart plans to continue music in college, focusing mostly on singing. She will also most likely continue drumming as well.
On Saturday, Feb. 22, she will be competing at a regional competition with MSD's Indoor Percussion in Orlando, Florida. To keep up with her progress as a percussionist, Bogart can be found as a snare drummer on Instagram @msdsnareline.