MSD Brain Brawl Team wins championship to cap off undefeated run
Charlie Goodman
February 28, 2020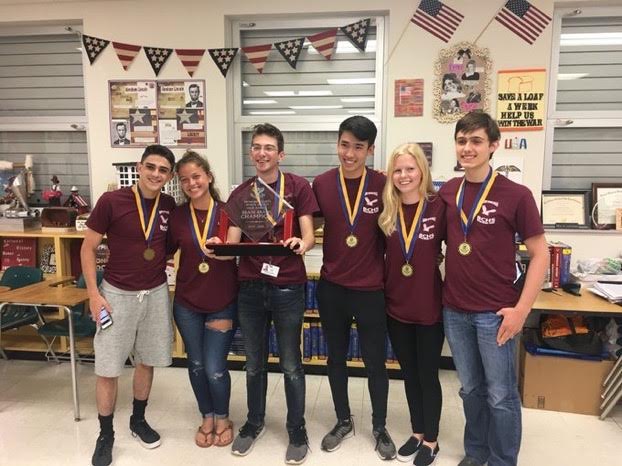 Each year, the National Honor Society at Marjory Stoneman Douglas High School recruits six outstanding students to take part in the Broward county Brain Brawl, a scholastic trivia competition.
The 2020 MSD Brain Brawl team was comprised of seniors Nick Cimino, Brian Guida, Katie Hebert, Max Kilman, Jason Wolk and Captain Finley Wells.
The students earned their spot on the team by excelling in tryouts, but even before that, dedicating their childhoods to exploring and acquiring knowledge about an immense variety of topics. By reading material, studying topics, and watching content, these students have added so much new knowledge to their repertoire.
"All my life I've just really enjoyed learning new things," Kilman said.
To compete in Brain Brawl, it is common that the student goes above and beyond to broaden their knowledge base.Those who have met this prerequisite shone at tryouts and made the team.
Four of these brainiacs, with 2 back-ups, faced off against other teams from schools across the county. In matches, the teammates attempted to rapidly answer trivia questions from all spheres of life from history to literature to STEM.
"Our team excelled in all areas this year but one I was especially proud of was our performance in questions about the arts. Most people don't have knowledge about that kind of stuff," senior Brian Guida said.
Throughout the 2019-2020 school year, the team had practices every Wednesday, reviewing questions and prepping for what might be thrown at them in competition.
In addition, some team members went out of their way to search the Internet for excess questions in order to max out preparation efforts.
And of course, there were some even less traditional manners to prepare.
"I'm going to be honest I watched Jeopardy… every single night," Wolk said.
MSD's team had an expanse of knowledge and displayed it throughout the year. Stoneman Douglas ran the table to an undefeated season.
After defeating all of its competitors in its district, known as the North Area, MSD advanced to face off against students from Cooper City High School, the champions of the South Area.
On Wednesday, Feb. 20, MSD defeated Cooper City in the finals to secure the 2020 Broward County Brain Brawl Championship.
"I was just extremely excited. It was the culmination of a lot of effort and several competitions. I was happy to have finally reached this point atop the mountain," Kilman said.
Ever since the beginning of the year, the team locked in on a goal and attained it through hard work. That validation led to pride and joy.
"We've been practicing since September…We were undefeated and I'm very proud of my team," Wells said.
This marks the end of the competitive season for MSD Brain Brawl, but there will be an exhibition match between the students and teachers at the school coming ahead at a date to be later announced.