Rapid technology growth reshapes and redefines society's standards of privacy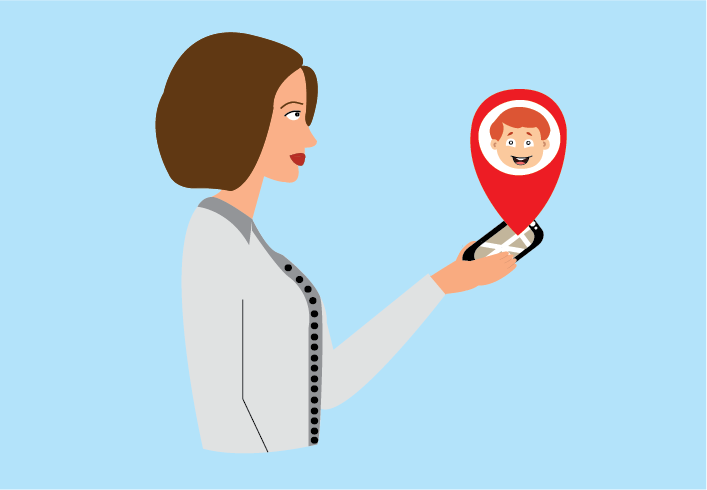 The screen on the mobile device reads "Current Location: Boca Raton, Florida, since 11:30 p.m. 42% battery." The parents of the speeding blue dot reaching 70 mph on their digital map are awaiting its arrival. Simultaneously, the blue dot, or better yet, their disgruntled teenager, is trying to decipher how to deactivate their location from the horrid app they deem is ruining their social life.
In response to this digital world, it is not rare to see parents using tracking applications, such as Life360, in order to stay informed on the whereabouts of their children. The application provides the exact location of users, as well as their driving speed and battery percentage.
"We track our daughter not because we don't trust her, but because it puts our minds at ease when she's out, and we can see where she is," Cam Vo, parent of a Marjory Stoneman Douglas High School junior said. "In case something happens to her or she doesn't come home, at least we'd be able to see where she was."
Life360 was launched in 2010 for all IOS users, and since then the release of similar apps has skyrocketed as adults have followed their children's footsteps in becoming more familiar with the versatile uses of technology.
According to Wired, approximately 29% of parents track their teenager's locations using mobile applications. However, not all parents agree with this form of supervision.
"I trust my daughter enough to tell me where she is and what she's doing," Fareeda Steele, an MSD parent, said.
Many students feel as if these apps breach the trust between them and their parents, as well as drastically impose on their social lives.
"Those apps really bother me because it just goes to show that parents don't trust their kids," junior Hannah Kang said. "And that lack of trust creates a bridge in their relationship."
The evolution of technology and the influence of the internet have altered parenting. Not only does this newfound technology equip parents with tools to easily check up on their children, but it presents new motives for parents to regularly monitor their children.
Fear of exposure and access to inappropriate material, the potential dangers of interacting with strangers online and the issue of cyberbullying have urged parents to provide extra supervision. As a result of these concerns, many parents have taken it upon themselves to limit unsupervised mobile activity or go as far as to explicitly search through their teenager's phone.
According to a study conducted by the Pew Research Center in 2015, "Among parents of teens ages 13-17, 61% check which sites their teen has visited, 60% check their social media profiles and 48% have looked at their teen's phone call records or messages."
This invasion of privacy has left a bad taste in the mouths of various students not only at MSD, but across the United States. Various teenagers have even taken the issue to TikTok, making videos making fun of helicopter parents and apps such as Life360 for "ruining their lives".
"When parents are strict, it just makes kids want to go out and do more," freshman Gabriella Reiss said. "Basically it just comes in between our relationship, making it hard for me to talk to her about certain things in fear [that] I'll let something slip and get in trouble."
Not only has the lack of privacy on mobile devices seen among parent-child relationships, but it is also prevalent between users on social media.
The shortage of privacy amongst social media users has been ingrained and normalized in internet culture. Due to the constant use of these applications, it is not very difficult to discover the interests, whereabouts or possessions of another person.
"I don't believe that others should be able to find out personal information about someone such as [their] current location without that person telling them," sophomore Lindsi Cohn said. "I feel like it's weird that [the internet] might tell people that information."
In fact, even platforms such as Snapchat and Instagram encourage users to share their locations with others through the advertising of Geo-filters and stickers. Snapchat especially has a built-in feature called Snap Map, where users can view the location of their followers down to the very street.
"Snap Maps is really creepy when you think about it," junior Shom Ahuja said. "We basically know where everyone is and where they live, but no one seems to have a problem with it."
Advertisers on social media such as Instagram and Facebook have also utilized cookies from internet browsers to target users with products or services they recently searched.
"The amount of times I have gotten an ad for something on my Instagram feed after looking it up on Google is more than I can count," freshman Kylie Messmer said.
A research study published in the Nature Human Behaviour journal explains the impact of not only individual users' posts but their followers' as well, on the accumulation of personal information that can be found through social media.
Researchers developed "ego-networks," or social links to one focal point, of Twitter accounts to analyze how much information they could obtain about a certain user simply by observing the interactions between them and 15 other accounts.
However, the study confirmed that 15 accounts are not needed, and merely interactions between nine accounts can contribute to the encoding of information obtained about a user, even if they are deleted.
"It's like listening in on one end of a phone call," the Nature Human Behaviour journal stated. "Even though you can't hear the person on the other end of the line, you can still find out a lot of information about them from the one-sided conversation you can hear." 
From protective parents tracking their children to researchers being able to target gain insight on specific users, the ever-evolving trend of technology has impacted and refined society's definition of privacy. 
This story was originally published in the March 2020 Eagle Eye print edition.