MSD Drama takes home 8 South Florida Cappies Awards for their production 'Imaginary: A New Musical'
Ivy Lam, Senior Feature Editor
May 23, 2020
On Tuesday, May 19, the 18th South Florida Cappies Gala was broadcasted virtually. The Cappies Gala, an event where theater students and their families across South Florida come together, was originally supposed to take place in-person at the Broward Center for the Performing Arts. Due to the COVID-19 pandemic, the gala was live-streamed to announce the winners of the awaited award night.  
Twenty-five schools across Broward County and Palm Beach County participated, including Marjory Stoneman Douglas High School. Drama troupe 4879 from MSD received the most Cappies awards out of all the schools with 8 wins. The drama department chose to submit "Imaginary: A New Musical" as the special performance to be judged on by critics.
Cappies award winners are determined by high school students who watch and judge performances in a peer-review voting process. Chosen student critics from participating schools attend productions at other schools to write reviews and nominate individuals for the awards offered.
"Being a Cappies critic has been a blast. I've been one for the past three years, and this year was my first time being lead critic, meaning I led my team and helped them all succeed," junior Peri Harris said. "I've learned from being in this program that it's not only about the writing and the performing, but it is celebrating those accomplishments and recognizing the art of theater."
Typically for an annual Cappies gala, students get to dress out in dresses and tuxedos and converse with friends from other schools. Since the event was broadcasted online, students could no longer spend the night with friends and bask in their wins together.
"The virtual gala had its perks but also its downfalls," senior Alexandra Duffy said. "Many different people and even celebrities came online to announce winners of awards and the gala was much faster than usual, but with it online, I didn't get to spend the evening with my friends and share our wins."
On the day of the gala, pre-taped renditions of students singing started off the two-hour-long virtual event and pre-recorded videos of theater-makers throughout the United States presented the awards. Some of the award categories included Marketing and Publicity, Lead Actress/Actor in a Musical and Props in a Musical.
"It definitely didn't feel the greatest to have a gala online, because usually we all get dressed up in prom dresses and we get to see our friends from across South Florida. That being said, the Cappies program did an outstanding job putting together the event," Harris said. "Although it's sad that we had to be quarantined, it doesn't take anything away from the meaning of the event itself. We are there to celebrate theater, and regardless of the place or time, that purpose stays the same. We had to make lemons out of lemonade for sure, but it worked in our favor and I really enjoyed the at-home gala."
Along with the actors and actresses on stage, elements such as sound and lighting are essential in pulling off a production for the audience. Two of MSD's Cappies wins were given to Alyssa Marrero for Sound in a Musical and Ally Reichard for Lighting in a Musical. 
"I was very excited [to win] because I put a lot of work into my design and I have never won before," Reichard said. "Drama has allowed me to do so many things that I never thought I would get the opportunity to do. I am so grateful that I'm allowed to run my own department and have the freedom to design and learn from all of our productions."
Additionally, MSD students Jordan Braunstein, Hannah Grinbank and Ava Digilio won for Stage Management and Crew in a Musical. While Jared Block and Andrea Peña earned the award for Creativity, Cameron Appel and Alexandra Duffy won for Choreography.
"My reaction when I won was ecstatic. I had never won before and winning was the perfect way to end my senior year," Duffy said. "I thank everyone that helped me with the win, my parents and boyfriend for supporting me, my friends for always encouraging me and my partner in crime [and] co-choreographer Cameron, for I would not have won without him."
The last individual Cappies Award for MSD went to sophomore David Prengler for his role as the Headmaster in "Imaginary: A New Musical." He received the Supporting Actor in a Musical award for his hard work and performance in the last musical of MSD Drama's 2019-2020 school year.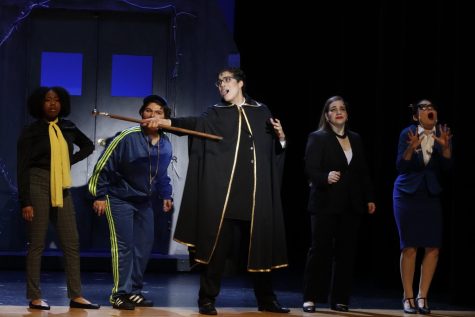 "I was watching [the South Florida Cappies Awards] live and as they were announcing the nominees, my heart was beating out of my chest," Prengler said. "I honestly didn't think I would've won and when they announced my name, I was just full of so much joy. I felt so accomplished and honored."
In regards to MSD's Drama ensemble overall, the group received the Best Song award for "Upgrade Time" and the Best Musical award for "Imaginary: A New Musical."
"When we won Best Song and Musical, I genuinely couldn't believe it, but at the exact same time, I did believe it. The competitors in that category were tough, but we as a cast pulled through," Harris said. "Our song 'Upgrade Time' meant so much to all of us because the majority of us were able to perform in it, and the harmonies and dances were the cleanest. To win Best Musical means everyone acknowledges your show as a whole, it was incredible."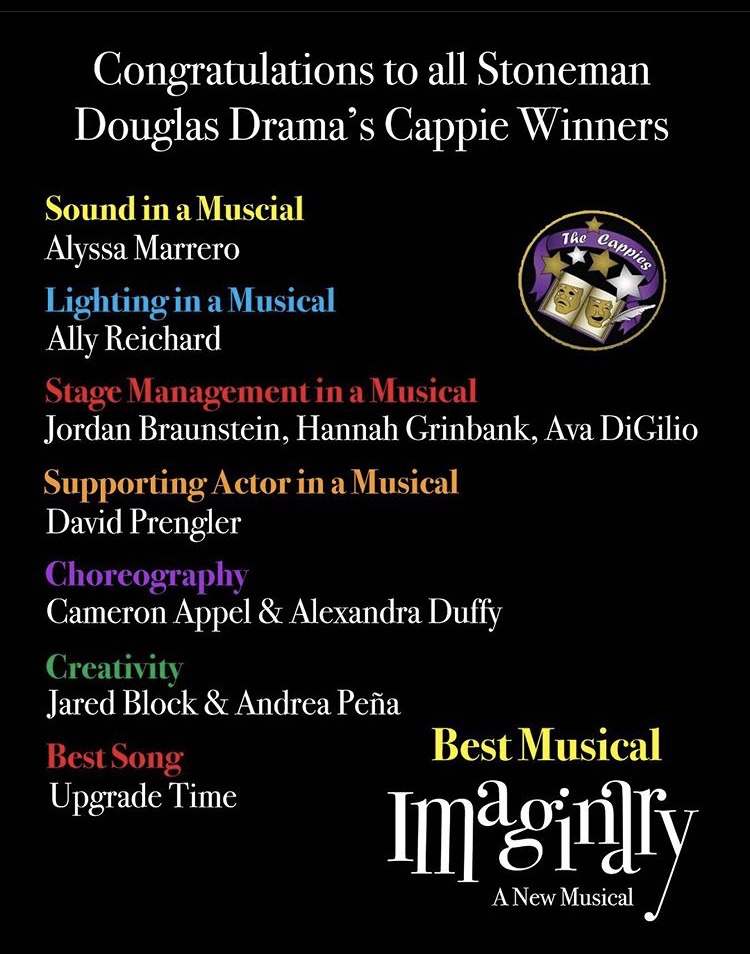 Although the gala was not able to be celebrated in-person, the virtual twist still allowed for those watching and those presenting to feel connected. Even at home, students from MSD's Drama program were still able to enjoy their accomplishments through social media on platforms such as Snapchat and Instagram.