October's Athletes of the Month: Alex Brotton and Michael McLaughlin
For October's coach's pick, the Eagle Eye decided to ask Quentin Short, head coach of the Marjory Stoneman Douglas High School football team, to pick a player he felt stood out. However, Short felt that one player was not enough to highlight, and chose both offensive lineman Michael McLaughlin (75) and defensive end Alex Brotton (84).
McLaughlin, who has been playing football for about ten years, recently received an athletic scholarship to the University of Miami. Before officially committing to the University of Miami in March of 2020, McLaughlin received 20 offers overall from colleges around the country. After choosing to commit to the University of Miami, McLaughlin decided he would leave MSD in January of 2021 to begin his college football career. McLaughlin, who weighs 225 pounds and is 6'7 feet tall, leads on the field and is also a leader for his teammates.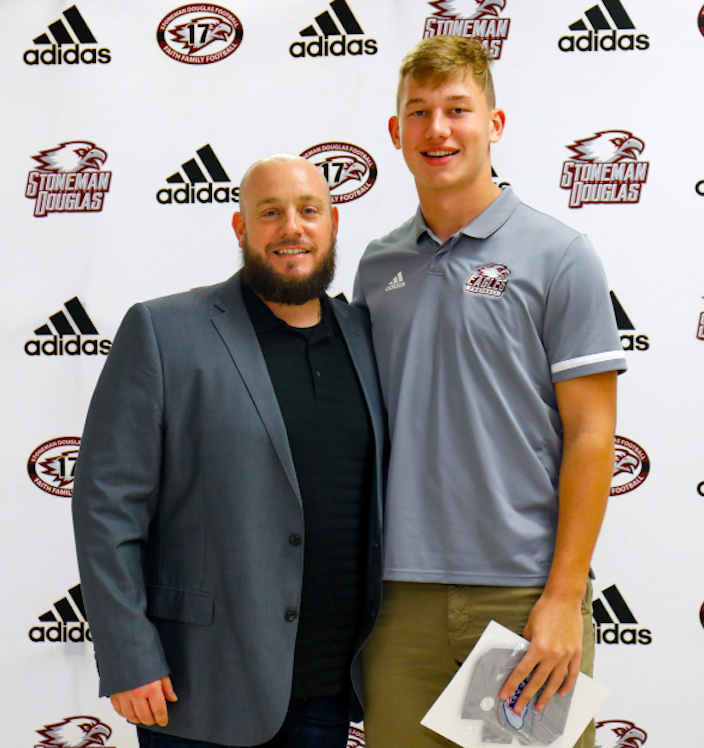 "He organized workouts with players, leads by example, and comes to work everyday," Short said. 
While at MSD, McLaughlin has also forged a tight bond with many of his teammates.
"[Michael has] taught me about humbleness," linebacker Jahrel Wilson said. "I'll say like he's one of the most humble kids you'll ever meet."
Many players often hope to have an abundance of college offers. McLaughlin has taught his fellow teammates that patience is key.
"[Michael] taught me not to be worried about the recruitment process and that offers will come," center offensive lineman Aris Skarecki said.
Before all his games, McLaughlin puts on his headphones and listens to the song "Razor's Edge" by AC/DC. While the song plays, McLaughlin attempts to prepare his mind for success in his upcoming game.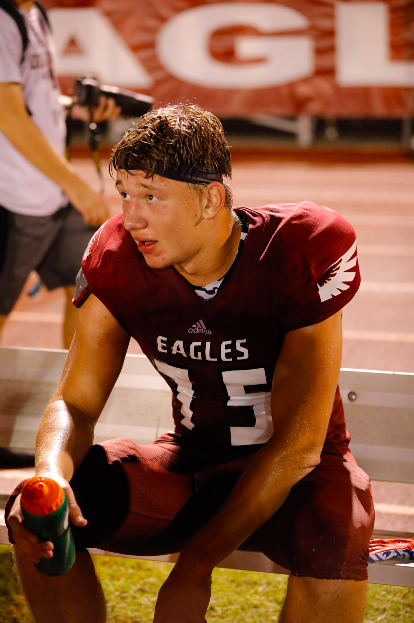 McLaughlin's father, Scott McLaughlin, has made a big impact on his athletic career.
"[My dad] has always provided everything I needed and pushed me to succeed athletically," McLaughlin said. 
As McLaughlin will soon leave the Eagles' nest to join the University of Miami, coach Short hopes that he will continue to remain humble, work hard and get better every day.  
The second player chosen by coach Short was junior defensive end, Alex Brotten. Brotten has played football at MSD for a total of three years, while this season will mark his second year on the varsity football team. Playing as number 84, Brotten has set himself apart from the rest by making the varsity team as a sophomore, which is normally a team of seniors and juniors.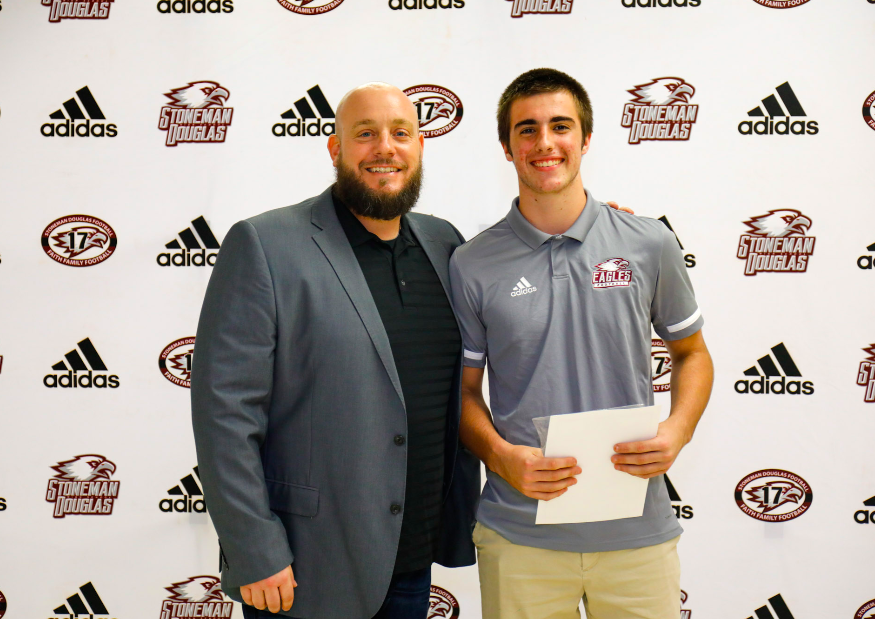 "My favorite thing about football is the brotherhood that you create as a team. It's like having another family for you to reach out to when something is troubling you," Brotten said. 
While being on the team for three years, Brotten has established a name for himself not only for his athleticism but also for his special character. Alex's teammates classify him as someone who is very fun, smart and determined.
Coach Short believed Brotten deserved to be highlighted because of his leadership.
"He leads by actions not words," Short said. "He is one of the few returning starters on defense from last season, he knows what it takes to win and he shows the younger kids that every day in practice."
To ensure the team has maintained the same standards as previous year, Brotten uses his experience on varsity to help the team as a whole develop skills to be unified.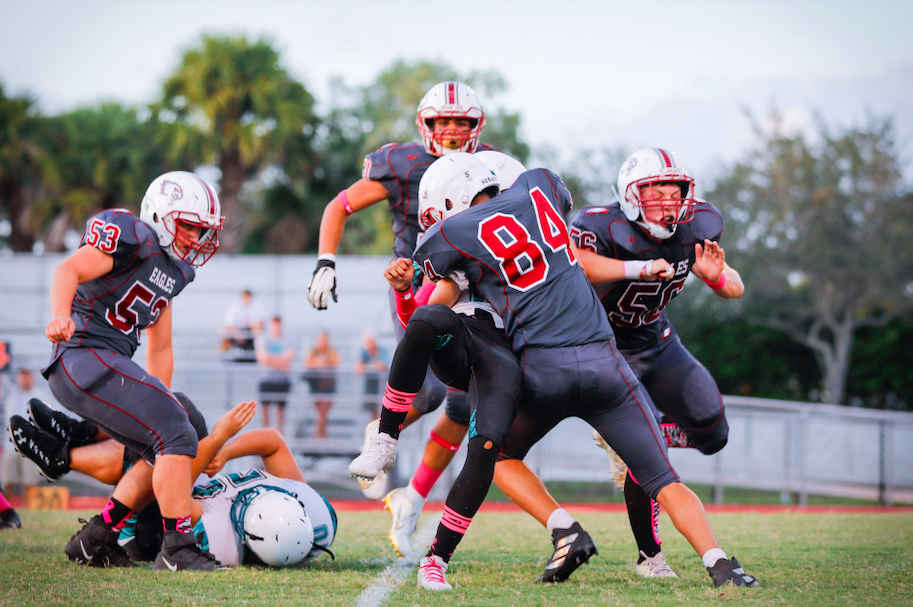 "Alex definitely deserved this. He's been one of the hardest working players I've seen since I came to MSD last year," defensive end Brock Moskowitz said. "I've seen Alex evolve from a shy and kinda quiet, yet determined person, to a very social, fun, and even more determined person."
To prepare his mind for an upcoming game, Brotton always listens to songs that make him feel unstoppable. Some of the artists Brotten listens to include Drake, 21 Savage and Lil' Uzi Vert. While these songs play, Brotton focuses on the team's plan for the game ahead. 
"One thing I've learned from him is to always try to be the best at everything you do. That's always been a trait of mine but Alex takes it to another level, that's why he'll be successful," linebacker Jahrel Wilson said. "He was one of the youngest kids on varsity last year but you wouldn't know because of the way he carried himself day in and day out."
Brotten's parents attend every single one of his games and have supported him throughout his high school career. 
"My parents have had the most impact on me because they got me into playing the sport and they have been pushing me to be the best I can be every year, and they want me to be successful at it," Brotten said. 
As the Eagles begin their season for the 2020-2021 school year, many hope they will uphold their title as District Champions. The Eagle's second game is on Thursday, Nov. 5 against Coral Glades High School. This game will take place at MSD's Cumber Stadium and is scheduled to start at 6:30 p.m.