President Joe Biden releases the American Jobs Plan
On March 31, 2021, President Joe Biden released the American Jobs Plan (AJP). The plan outlines $2.3 trillion in new federal spending on a wide range of matters including public infrastructure, research and development, caregiving, workforce training and affordable housing.
While the American Rescue Plan Act of 2021, a $1.9 trillion economic coronavirus stimulus bill, delivered significant relief to many citizens during the pandemic, Biden wants to kickstart the long process of rebuilding our economy now.
Despite being the wealthiest nation in the world, the United States sits in 13th place when it comes to the overall quality of our infrastructure. Our transportation systems, water sanitation programs and electric grid have suffered from years of divestment.
Job losses due to the pandemic have threatened economic security and our nation is losing its lead on foreign competitors when it comes to research and development projects. The AJP will serve as an investment into America that will help better our nation for years to come.
One major goal of the plan focuses on updating various transportation infrastructure including roads, bridges, ports and transit systems. More specifically, Biden promises that 20,000 miles of highways, roads and main-streets will be modernized, that the ten most economically significant bridges in the country will be reconstructed and that 10,000 smaller bridges will be repaired. Additionally, thousands of busses and rail cars will be replaced, airports will be repaired and transit systems will be expanded into new communities.
Another major goal focuses on clean drinking water and a repaired electric-grid. Under the AJP, Biden wants to eliminate all lead pipes and service lines in our drinking water systems. This would improve the quality of water in households across America, especially in areas with lower income levels. Through this process, hundreds of thousands of jobs will open up for people to lay transmission lines and cap abandoned mines.
Furthermore, the plan will build and preserve more than two million homes and commercial buildings along with modernizing schools and child care facilities across the nation. Federal buildings and veterans' hospitals will be updated as well.
Moreover, the plan will create jobs and raise wages for essential home care workers, the majority of which are women of color.
Another major aspect of the plan focuses on bringing back manufacturing and investing in research and development projects. Biden promises that the best minds across America will work on creating the innovations of the future while creating hundreds of thousands of jobs. The plan will also address the creation of safer workplaces where workers have the choice to organize or join a union.
The plan also gives Americans who have endured systemic discrimination for generations a fair chance at obtaining a well paying job and becoming part of a workers union.
"I like the fact that President Biden is taking initiative to launch a full-fledged campaign to pull the country out of this COVID-19 stricken recession," Marjory Stoneman Douglas High School sophomore Jason Choy said. "It is the right step forward to return the country back to pre-pandemic days and will provide many with job opportunities that are currently still scarce but very sought after and needed."
The AJP would be funded in part by various increases in business taxes. This would include increasing the corporate tax rate to 28%, establishing a minimum tax on corporate book income, raising the tax rate on foreign profits and eliminating tax preferences for fossil fuels.
Alongside the release of the American Jobs Plan, Biden also released a Made in America Tax plan with the goal of stopping corporations from paying little to no taxes by shifting jobs and profits overseas. The plan will also reward domestic investment and foster jobs within the U.S.
If passed with the American Jobs plan, the Made in America Tax plan would fully pay for the American Jobs plan within 15 years through the generation of new funding and new revenue for many years after.
These investments, geared towards revitalizing our nation's infrastructure and stimulating jobs, will pay off for future generations. This in turn will leave our country more competitive and our communities stronger.
Leave a Comment
Your donation will support the student journalists of Marjory Stoneman Douglas High School. Your contribution will allow us to purchase equipment and cover our annual website hosting costs.
About the Contributor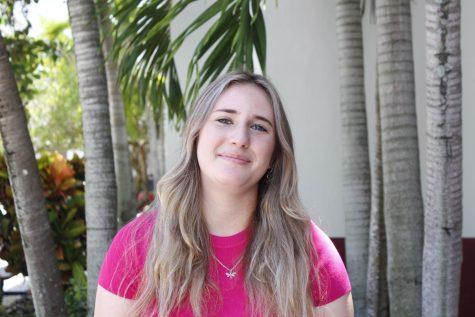 Lily Singer, Senior Arts & Leisure Editor and Senior Opinons Editor
Lily Singer is a senior at Marjory Stoneman Douglas High School and the Senior Arts & Leisure Editor and Senior Opinions Editor for the Eagle Eye....