Students continue to prepare for their Advanced Placement exams
With the 2020-2021 school year coming to a close, students at Marjory Stoneman Douglas High School are beginning to study for their exams. Students in Advanced Placement programs have their exams all throughout the month of May.
Advanced Placement students will either be testing in-person at school, which are in the middle of May, or testing online towards the end of May. Having prepared for their exams since the beginning of the school year, it is now time for them to show the skills they've learned in this year.
Currently having the time to practice and study the material they have learned, students are now finding efficient ways to go over their material.
"For my studying technique I'm rewatching video notes my teacher has posted on canvas throughout the school year," junior Hannah Leon said. "They have always helped me grasp the material so much better whenever I had to prepare to take a test."
Using video notes as an option, students are also using studying apps such as Quizlet that can also enhance their studying.
"For studying I have always tend to use Quizlet," senior Kenneth Saucedo said. "I've been using Quizlet since I was in middle school and it has always helped me to achieve a great grade on my exams. They also have great studying options on their program that turns studying into a game, it's a great way to have fun and still be on task with my AP exams."
Also being in study groups in-person or on zoom calls with peers and teachers have benefited students in obtaining successful scores in the past.
"For studying for my AP exams I have been attending group study sessions," junior Isabella Cristancho said. "I will meet up with friends and even occasionally my teachers to review past material. It's honestly really nice because with online school we have all had the lack of connection with teachers and other students and being together really brings back normalcy for me."
Another study strategy students are taking is going to their AP teacher's exam practice tests and completing those. Once finished, the student will get a diagnostic to see what core skills they should focus on. Being a more efficient way to study their material for the upcoming exams.
"Last week I went into school to my AP teacher's classroom and did a diagnostic test," junior Marlo Perkins said. "It wasn't as long as the upcoming exam will be but it was enough material to realize what I had difficulties on. Once I received my diagnostic I was able to find videos or notes on the material I was lacking knowledge on."
Using these efficient ways to study the material from the past year, students aim for success on their AP exams. Looking over past material either through the use of videos or notes, along with meeting up with peers or teachers are available options that can contribute to students' preparation prior to their testing dates.
Leave a Comment
Your donation will support the student journalists of Marjory Stoneman Douglas High School. Your contribution will allow us to purchase equipment and cover our annual website hosting costs.
About the Contributor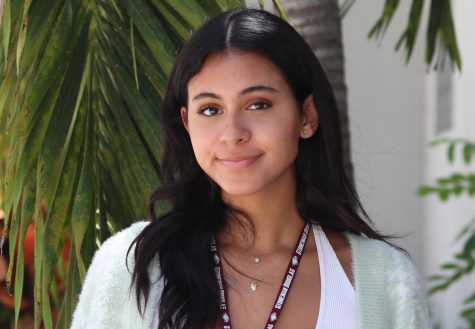 Erika Ryan, Writer
Erika Ryan is a senior at Marjory Stoneman Douglas High School. She enjoys reading, painting and writing.