MSD art teacher Jacqueline Lieberman is recognized as Visual Arts Teacher of the Week
Jacqueline Lieberman is one of the art teachers at Marjory Stoneman Douglas High School. She teaches a variety of art subjects here and is the head of MSD's National Art Honors Society. She was recognized as the Visual Arts Teacher of the Week by Broward County Public Schools Applied Learning.
On April 1, Jaqueline Lieberman was announced as that week's Visual Arts teacher. It was posted on Twitter and the Applied Learning website. She received an email notifying her and thanking her for her service.
"I was very honored and surprised, very humbled by it. I was not expecting to be honored at all," Lieberman said. "Because you know I love my job, [and] I love  working with students. I love teaching, to me it's a joy to come to work everyday and watch my students grow as artists and foster them and their creativity."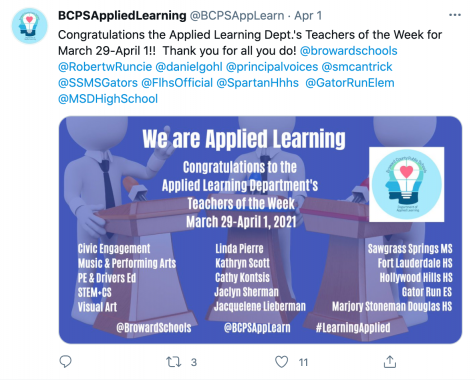 Lieberman has been a teacher at MSD since the fall of 2018, she teaches a multitude of different art subjects including sculpture 1 through 3, AP 2-D art, AP 3-D art, AP drawing and painting, 2-D art honors and ceramics 1 through 3.
"I love her class because she is super energetic, sweet, [and] understanding, but at the same time she knows how to set rules, and boundaries in the classroom," sophomore Samantha Moncayo.
She is also the head of the National Art Honors Society club here at MSD. NAHS does a lot of community service projects and frequently works with the Coral Springs Museum of Art. They have done murals around the school and community and are currently working on a mural in MSD on campus garden, Marjory's Garden.
In 2019, NAHS also participated in the Bloomberg's Philanthropy Project, thanks to Lieberman. Funded by Micheal Bloomberg to help heal the Parkland community after the 2/14 shooting which was the first year Lieberman had been on staff, she became a committee member to work on several projects with famous artists doing community based art. She included all students in NAHS to participate and any other students at MSD who wanted to join. They built the Temple of Time, the Scrollathon with the Ladd Brothers, the Yellow Lock project and the "Peace and Love" sign outside of the Panthers Ice Den.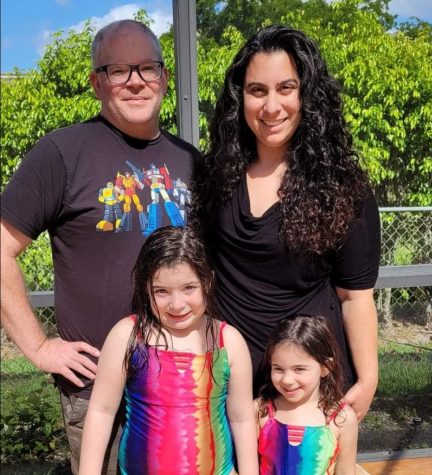 Lieberman grew up in Coral Springs and continues to live here with her family of five; husband Seth, six-year-old daughter Madeline, four-year-old daughter Juliette and golden doodle Romeo. She also has an identical twin sister who lives in the area as well, that Liberman's students frequently confuse for her.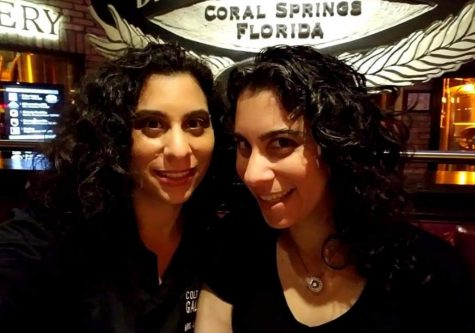 Outside of school, she loves to continue creating art herself. It started as mostly acrylic painting, but then she transitioned into ceramics. She loves making ceramic through handbuilding, which is constructing out of slabs of clay rather than thrown clay. She likes to make platters and trays, more functional pottery.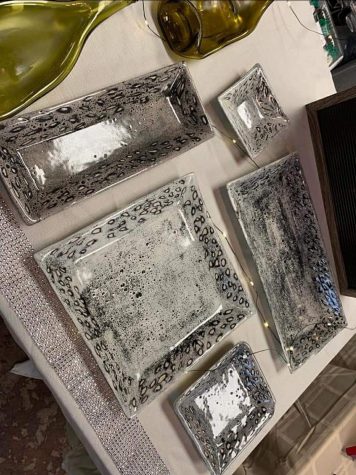 "I am a proud eagle, and I am very honored to be here at [MSD] high school, I absolutely love it," Lieberman said.
Lieberman loves her job here at MSD, and looks forward to continuing her eagle journey.