Art teacher Jacqueline Lieberman joins MSD staff
Taylor Morrison
September 4, 2018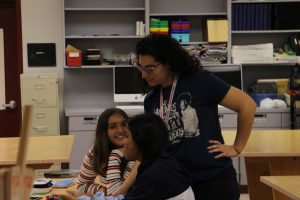 Jacqueline Lieberman is one of two new art teachers to Marjory Stoneman Douglas High School. Lieberman's extensive list of qualifications begins with her receiving her bachelor's degree from the University of Florida (UF) in art history, followed by a master's degree from Florida Atlantic University (FAU) in education with a specialty in art.
Lieberman originally wanted to pursue a career as a curator at a museum. This led her to interning at various museums around the country including the Museum of Contemporary Art in North Miami, the Harn Museum at UF and the Metropolitan Museum in New York City, where she gave guided tours.
"Once I went to college I pursued art history and loved it," Lieberman said. "After interning in all these museums in the education department, I realized I really wanted to teach and become a teacher."
Lieberman went on to acquire the necessary certifications to become a teacher in the state of Florida and returned to school at FAU to further her education. Following this, she took over her previous high school art teacher's position at her alma mater, Coral Springs High School (CSHS), where she continued to run the art department for 11 years.
At CSHS, she was the sponsor of both the National Art Honors Society (NAHS) and the Jewish Student Union (JSU) and has now sponsored these same organizations as MSD. Additionally at CSHS, Lieberman, along with the other new MSD art teacher, Randee Lombard, opened a gallery where they displayed their students' artwork.
"We had a few exhibits, where we exhibited our students' work in the gallery setting which taught our students how to professionally install their artwork," Lieberman said. "We had a gallery opening for that as well."
Lieberman and Lombard hope to have a similar showing at MSD.
Since Lieberman has entered MSD, she has expressed having a positive experience and has expressed her excitement to educate her new group of students.
"So far I have had a wonderful experience with the staff, the teachers, the students," Lieberman said. "I'm excited to work with my art students on learning techniques and skills and helping them build on their artist talents."