The long-awaited "Spider-man: No Way Home" trailer excites fans of Spider-man old and new
After several months of speculation and rumors, Sony finally released the first trailer for the upcoming Spider-man movie, "No Way Home." The official teaser trailer was released on Monday, Aug. 23. The trailer was a true record setter, receiving a total of 355.5 million views worldwide within only 24 hours.
With the anticipated hype about the trailer, it is no surprise that it set records. The trailer broke the all-time viewing record previously set by "Avengers: Endgame." The movie itself is predicted to be one of the biggest movies in 2021.
"Spider-man: No Way Home" features Tom Holland as Peter Parker, along with Zendaya as Michelle Jones. In the trailer, you can also see the returning Benedict Cumberbatch as Dr. Strange. There have also been rumors of Andrew Garfield and Tobey Maguire, both former Spider-man actors, making appearances in the film.
The trailer picks up after recent events from "Spider-man: Far From Home," where Peter Parker's true identity was revealed by the villain Mysterio. In the first few scenes of the trailer you can see how this has affected Peter, causing his life to be filled with negative attention and fame.
This fame and attention has completely turned his life upside down. With all the chaos that has been brought in response to the exposure of his identity, Peter is left wishing it had never happened at all.
Peter finds himself visiting Steven Strange, wondering if there was a way he could undo Mysterio revealing his identity. Dr. Strange ends up casting a spell where nobody will remember Peter is Spider-man.
As a result of the spell, the stability of time and space were tampered with causing the opening of the multiverse. This opening can lead to an endless amount of outcomes, as even the unexpected can take place.
"I love how chaotic the trailer is, which makes it more mysterious and action packed especially with the multiverse. The last Spider-man movie was left on a cliffhanger so I would love to know what happens next," freshmen Lana Gregorio said.
Fans have been quick to find easter eggs in the trailer, which are subtle clues about the movie's plot. Some include rumors of villains Electro, Sandman, the Green Goblin and, most popularly, Doctor Octopus. These are all villains that have been seen in previous Spider-man movies and comics. It is of note that these villains and their actors (Jamie Foxx as Electro, Willem DaFoe as the Green Goblin and Alfred Molina as Doctor Octopus) have not been present in the Marvel Cinematic Universe, rather in the previous Spider-man sagas outside of the MCU.
"Seeing the trailer makes me excited for the new movie because they are bringing back old characters. In the film I expect to see multiple versions of Spider-man, along with every villain," freshmen Rocco Duygulu said.
"Spider-man: No Way Home" is expected to come to theaters on Dec. 17, 2021, barring any COVID-19-related delays. The film is expected to be Marvel's biggest release of the year.
About the Writer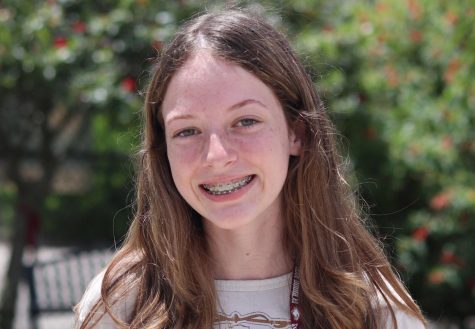 Bailey Carter, Writer
Bailey Carter is a freshman at Marjory Stoneman Douglas High School. She likes baking and playing with her dogs Marley and Chloe.