Emporium chosen to develop a portion of the Heron Bay Golf Course brings possible benefits and problems for MSD Heron Bay residents
After the selling of the Heron Bay Golf Course in 2011 to North Springs Improvement District, a public water provider for about 40,000 residents living in the Coral Springs and Parkland area, it officially closed in 2018. Since its closure, there has been much discussion in the community in regards to what should happen with the land. Although NSID will be devoting the majority of the land to a Storm Water project, a small portion of the land NSID did not need was put on the market to be sold for development. The architecture firm Emporium was chosen to partner with NSID, the city of Parkland and city of Coral Springs to modify and plan the new entertainment, eating and retail center. 
The Heron Bay Golf Course is located inside of Heron Bay, a Parkland development, and spans about 220 acres in total. A large percentage of Heron Bay teenagers attend Marjory Stoneman Douglas High School and account for a significant percentage of the school's population.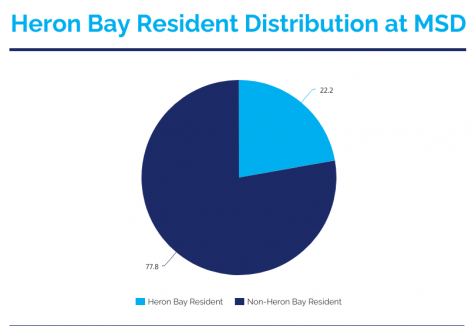 Back in 2011, the course became too much to manage and still profit from, therefore Heron Bay decided to sell it. Before the golf course was put on the market to be sold, it was offered to the Heron Bay Association for a price of $3 million dollars; this way the HBA and Heron Bay residents could possibly choose what to do with the space.
However, they declined and instead ClubLink, a Canadian company, purchased it. ClubLink has 12 other South Florida clubs, including Woodlands Country Club in Tamarac and Eagle Trace Golf Club in Coral Springs. In 2018, the Heron Bay Golf Course closed permanently when the golf course became too challenging and costly for the company to manage, just as before for Heron Bay.
It was put on the market again for $33.5 million and purchased by NSID slightly below the asking price, at 32 million. NSID's goal is to use about 150 acres of the land for water retention and preservation, and sell the other 70 acres to another company for development. The 'Storm Water project' will include large storm drains to protect the city from flooding and will be covered by recreational walking trails and green spaces. 
For Heron Bay residents, NSID's purchasing of the golf course helped to prevent a different company purchasing and developing the area. By selling the other 70 acres, NSID is hoping to offset the costs of the Storm Water project for their customers or at least avoid this project from causing a large increase in residents' water bills. 
Yet, some Heron Bay residents are still upset about the construction. Many worry it will block their view, cause an increase in traffic and that the development will make the area less 'green.' Others feel this will be a new area for fun activities and restaurants, but are not located in Heron Bay and therefore do not share any resident-related concerns.
"I feel that the construction of an entertainment center would be negative because it is inconvenient to build a shopping center in front of a residential area," an MSD student who lives in Heron Bay said.
Multiple business offers for the 70 acres led NSID to ask for each of the companies to create an in-depth plan of what they would use the land for. 
On Wednesday, Sept. 16, NSID held their final evaluation of the developers for the portion of the Heron Bay golf course. They set up a panel of representatives from Parkland, Coral Springs, and Heron Bay to help vote on the different developers' plans. The three companies left in the final round of evaluation included Medallion, Town Center and Emporium. 
Overall, Emporium received the highest score of 67 points, Medallion received 46 and Town center received 42. Emporium is a team of multiple different architectural companies including, BVM Development, B&B Development and MY Construction, who will all work collectively on this project.
Emporium can now present their plan for development to the City of Parkland and the City of Coral Springs for the areas located in each respective jurisdiction. The cities and Emporium will plan, discuss and make modifications to make sure their residents are kept in mind during planning. 
"We have to keep in mind nothing has come before the City of Parkland or Coral Springs in regards to developing this area, so these conceptual designs from Emporium were just that … conceptual," Parkland mayor Rich Walker said in a Facebook post Sept. 15. "There is nothing for us to review, approve or deny at this time."
Currently, the plan consists of high-end boutiques, an acoustic amphitheater, events spaces, a maker atelier, co-working offices and a market. The walkable shopping district features a network of indoor outdoor and semi-open softscapes and hardscapes, defining the area with pedestrian bridges, canopies and paths linked throughout the site to public art installations and a waterfront area. 
"I think it would be good because there would be more benefit for those living nearby to get resources if anything or just have something to do for enjoyment," an MSD student said.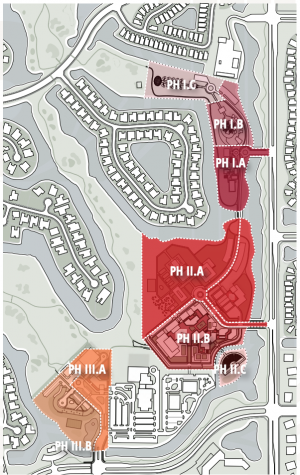 Considering construction for development of Emporiums plan will commence at some point, even if not in the near future, this could affect traffic patterns for students/staff of MSD who live near and in the Heron Bay development. Construction is estimated to not commence for about three to four years from now. However, when it does, the building time that Emporium has identified is estimated to be phases of 1-3 years each; Phase 1 being 1-2 years, Phase 2 being 2-3 years, and Phase 3 being 2-3 years. Emporium has stated that all phases will allow for access to and between all the other phases, and a traffic management plan will be implemented during all phases of construction ensuring minimal impact for residents.
"I am worried about possible traffic because Parkland is already overcrowded and this will probably increase traffic," a freshman MSD student said. "I will be driving in 3-4 years and this will probably impact me more then than it does now."
As more information pertaining to the construction plan develops all numbers, time frames and general layout of the plan is subject to change.