Hillary Clinton rallies support in Coral Springs
Lily Skopp
September 30, 2016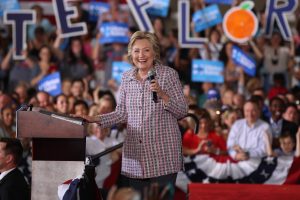 After hours of waiting in line, enduring the sweltering heat of the South Florida sun, enthusiastic fans of Hillary Clinton entered the Coral Springs Gymnasium dripping in passion (and for some, sweat). The Sept. 30 rally in support of the Democratic presidential candidate started on time, with doors opening around  1:30. It lasted nearly four hours.
The venue was packed quickly- within a half an hour a crowd of more than 1,000 was formed- and thus an overflow room at the Coral Springs Center for the Performing Arts was put to use. While the temperatures outside were intense, the inside of the gymnasium provided little relief and thus medical personnel were quickly put to work dealing with dehydrated and heat exhausted supporters; water bottles were passed around during this waiting time as well as during the rest of the rally.
A large number elderly observers were in attendance (there was even a sit-down section roped off for those who could not withstand the strain from standing for the long event), but the presence of young individuals was lacking. This disparity of age was likely due to the fact the rally was held during school hours for students in Broward County. However, a handful of students left classes early to attend the rally. Gleeful teenagers roamed the crowded room, ruminating the combined glee of missing school and being witnesses for as many of them put it "history in the making."
Once the crowed was situated, State Representative Jared Moskowitz provided the welcoming remarks. In addition to hyping up the crowd, Moskowitz summarized Clinton's career as a public servant, highlighting her attention to race and gender issues. Moskowitz discussed the diverse population of South Florida (from which he hails) and the importance of electing a candidate who values such differences.
"[Clinton's] vision for America is one where we spread unity and kindness and reject hatred and bigotry," Moskowitz said. "That's our vision; those are our values. Here in Coral Springs, we are inspired not just by Secretary Clinton's words, but by her deeds."
Building off of Moskowitz's focus on the city of Coral Springs, various local acts (New Mount Olive Baptist Church's Dr. Rosalind Osgood with an invocation, Girl Scouts Gabriella Michelle Ayon (12), Mya Massoud (9) and Savannah Broderson (12) with the Pledge of Allegiance and the Supremacy Supremacy Vocal Group singers Frantz Cerant, Sandy Pierre, and Hollando Mathurin with the National Anthem) took the stage.  This was followed by remarks by William Chun, an organizer for the Clinton campaign. While the crowd remained respectful to the individuals that took the stage, it was apparent all were becoming impatient in the wait for Hillary to arrive.
However, attendees were soon distracted by the political remarks of  U.S. Representative Debbie Wasserman Schultz. Wasserman Schultz, a polarizing figure in the Democratic party, has recently received backlash from her perceived treatment of Senator Bernie Sanders during his time as a presidential candidate. But, at the rally she acted as a unifying force, speaking on a topic that puts most Democrats in agreement: Donald Trump. Each time Wasserman Schultz condemned the Republican frontrunner, she was met with earthshaking cheers of agreement from the majority of her observes (and boos on behalf of Trump).
"I have a few thoughts about Donald Trump's appearance," she said. "But I'm going to keep those thoughts to myself… You can't fix ugly when it is on the inside."
However, her dialogue soon came to mirror the antagonistic style of speech she professed to disparage from Trump; But, each lambast was met with continued positive response from the crowd; the more she criticized Trump's character, the more the crowd reinforced her speech.
"It's not just Trump's rhetoric that is ugly and offensive; it is his policies too."
This sentiment was carried through with the next speaker, U.S. Representative Alcee Hastings. His denouncement of Trump was lighter than that of Wasserman Schultz, though he still weighed in on his opinion. But, Hastings shifted from negative attacks on the Republican frontrunner to focus on the magnanimity of the upcoming election, and the important role Florida plays as a swing state.
"If we carry Broward County, we carry Florida, and if we carry Florida we elect the first woman president."
Hastings left to thundering applause and was quickly replaced by the next speaker U.S. Senator Bill Nelson. Like Hastings and Schultz before him, Nelson played into the the rejection of Trump.
"I call him Don John the pawn" Nelson said, eliciting laughter.
Nelson was highly complimentary of Clinton, but spoke equally as well (if not better) of her running mate Tim Kaine. Nelson praised his friend for his ability to speak Spanish, a skill valued greatly by South Florida voters due to its dense Hispanic population. This was evident at the rally; Hispanic Hillary supporters brandished signs for Clinton in their native languages (two of the largest poster boards reading"Listos para Hillary" and "Mujeres para Clinton"), and so they waved these signs around with pride as Nelson discussed the importance of Spanish fluency.
Intertwined between each speaker were empowering, popular songs from a multitude of musical generations. From Taylor Swift's "Shake it Off" to Hall and Oates' "You Make My Dreams Come True," each style of music was tailored to a specific demographic seen in the highly diverse audience (both in race and age) at the rally. The cacophony of strategic sounds inspired dancing; those holding the posters passed around by Clinton's staff waved their signs along to the music.
Energy bubbled in anticipation for the next guest, Secretary Clinton. Then, the music subsided, and the room was filled with explosive cheering. As the crowd roared, Clinton emerged, beginning her 30 or so minute speech.
Clinton could not have done a better job fitting her speech to the audience. She began with comments on local happenings, delicately eulogizing the recent death of Miami Marlins pitcher Jose Fernandez, and passionately discussing the imprisonment of local Bob Levinson, who was captured and is currently held by the Iran government.
"It is long past time for the Iranian regime to provide information on his whereabouts and let him return home to his family," she said.
By talking directly on local issues, Clinton demonstrated a high level of care and regard to the community she addressed. It was clear Hillary did her research, and wanted to speak from her heart to the people of South Florida. This genuine interest combined with her seasoned professionalism added to the juxtaposition of the seasoned yet vulnerable persona, which she featured both at the rally and on a daily basis.
She also represented her sense of her South Florida audience with her next topic: climate change. She included this topic as as Florida faces a great threat from environmental instability (having both economic and physical implications), and thus this is an important topic to the community at large. But, this also served as a chance to jab at Trump, as he has previously denied climate change, writing it off as a hoax.
From there, before she continued her focus on the negativity surrounding Trump, she discussed the positivity of her relationship with Bernie Sanders. Her recall of the competitive yet supportive environment she and Sanders share seemed genuine, and not so much a plea for millennial voters she has lost in large amounts to third party candidates– though it likely applied both instances. She continued with a similarity she shares with Sanders: the hope for affordable college. Yet, this quickly turned into an opportunity for Clinton to criticize Trump's reality television empire as she claimed the work study esque programs she would create wouldn't be the kind where "you're told you're fired, but the kind where you're told you're hired."
And, the jabs continued. She mocked his current Miss Universe twitter scandal, and his respect for Russian president Vladimir Putin.
"My opponent believes in what I call a 'strongman approach.' …He has said, 'I alone can fix it.' I alone? Well, we learned that that's his way. One person getting supreme power and exercising it ruthlessly. That's why he admires dictators like Vladimir Putin so much."
The clearly antagonistic relationship between Trump and Clinton was also mirrored outside the gymnasium with supporters of Clinton and Trump shouting at each other and chanting. Clinton played into this bitter rivalry with the remark "friends don't let friends vote for Trump."
All aspects of the Sept. 30 reinforces Clinton's statement  that 'if we win Broward County by as big a margin as we should win it, we win Florida." Broward County holds momentousness in the upcoming election. It is for this reason that Clinton brought all the stops to Coral Springs; her sense of attention to her audience, her clever attacks against her political rival, and her trademark seasoned professionalism– all serving as weapons in her bloody battle against Trump.
A man who can be provoked by a tweet should not be anywhere near the nuclear codes.

— Hillary Clinton (@HillaryClinton) September 30, 2016
"Who gets up at 3 o'clock in the morning to engage in a Twitter attack against a former Miss Universe?" —Hillary

— Hillary Clinton (@HillaryClinton) September 30, 2016
"My view is we are already great, and if we work together, we will become even greater in the years ahead." —Hillary in Florida

— Hillary Clinton (@HillaryClinton) September 30, 2016
.@HillaryClinton Rallies Voters in Coral Springs https://t.co/ES51foOw01 via @Still4Hill #ImWithHer #StrongerTogether

— Still4Hill (@Still4Hill) September 30, 2016
Full Event: @HillaryClinton FANTASTIC Rally in Coral Springs, FL https://t.co/qJVF2F1Qgh via @YouTube #ImWithHer #StrongerTogether #HillYes

— Corinne (@Corinne0721) October 1, 2016
Hillary Clinton speaks at a rally in Coral Springs, Florida. Watch @CNNgo: https://t.co/UYpqI3w42L pic.twitter.com/uFnZ8xE0Wk

— CNN (@CNN) September 30, 2016