[Review] Popular artist Steve Lacy goes on "Give You The World" tour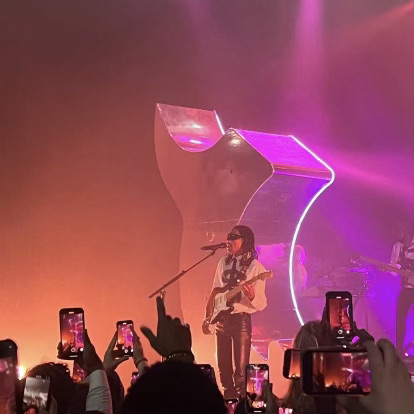 24 year old up-and-coming singer, songwriter and record producer Steve Lacy kicked off his 27 stop "Give You The World" tour on Oct. 2 at Denver Colorado's Gothic Theater and has been on world tour ever since. Lacy's latest album, "Gemini Rights," which was released in 2022, has become extremely popular. The album quickly reached number seven on the Billboard top 200 chart while his hit song, "Bad Habit," reached number one on Billboard's Hot 100.
Lacy is known for his unique music style and structure which can be categorized as R&B. In the past, he has worked with other popular artists such as Denzel Curry, J.Cole and Kendrick Lamar. However, Lacy's new album is primarily solo songs excluding a few collaborations with Matt Martians who is a record producer and collaborated on the song "2Gether." Lacy has used his debut tour to showcase his music and his persona.
In addition, the venues were packed with about 6,000 people per show. The venues were filled with fans who screamed every lyric to each song starting off with "Buttons," one of his new songs from the "Gemini Rights"album. He then jumped into another song from the album called "Mercury" which was played on the acoustic guitar.
Lacy's tour was frequently talked about on social media, with fans waiting in line to get tickets. However, the tickets sold out extremely quickly, leaving many fans with no way to attend his concerts.
"When I looked to buy tickets, most of the concerts were already sold out. It is crazy to see how fast he blew up," senior Skylar Bons said.
Lacy came on stage with unique outfits each night of the tour, whether it was vibrant colors or cool sunglasses. Despite this being his first tour, he dressed for the part as any artist would.
"I watched videos of his show and I found it so cool that he switched from the guitar back to the bass. It set the mood for each song," sophomore Kayla Walker said.
The concert was worth every penny. This album was one of my favorites of 2022. Despite the controversy of his behavior on tour, most of the fans seemed to enjoy themselves.
The setlist included songs from his newest album and his previous singles including 2017 release "Dark Red." He managed to have a full set-list despite being a relatively new popular artist even though he has previous albums including "Apollo XXI."
"I just found out about Steve Lacy from TikTok and I was so excited to hear he was going on tour. The new album is now one of my favorites," senior Ella Reiss said.
Although Lacy's tour is making waves around social media, some of the feedback has been negative. His show in New Orleans on Oct. 24 received backlash from Lacy throwing a fan's phone on the stage because they were recording when he wanted no phones. He is making it clear that he will not let fans ruin his performance.
Steve Lacy's show from Houston, TX also received backlash when Lacy made comments about his audience not knowing the lyrics to his songs. Lacy stated during his performance , "So, let's do a thing. Let's try that last song again but this time I'm going to play back up like I used to. You guys sing and I'll play." Lacy was also recorded taking a fan's phone from the audience and throwing it on the stage and then he stopped the shows.
"The videos of Steve Lacy throwing things on stage went viral," senior Olivia Binder said. "It was really shocking to see him act that way."
The artist played all of his hit songs including "Static," "Give you The World" and "Bad Habits." Lacy's concerts however exposed that the majority of the audience only know the lyrics that appear on social media. I was excited to see his show but the attitude he displayed gave me a very different opinion on him.
Hopefully Lacy's recent controversies do not overshadow his musical talent and his new fame. It will be interesting to see his new tour dates and if it goes smoothly. His show was still very worth it to me, despite some of the mishaps.