Florida Renaissance Festival offers something for everyone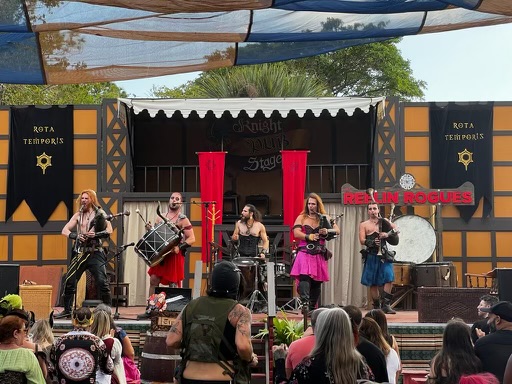 Liliana Griffis, graphic design
March 30, 2023
Full of folk tunes, mud splashing and matchmaking, the Florida Renaissance Festival arrived Feb. 4 and ends on March 26, beginning at 10 a.m. each Saturday and Sunday. The Annual Florida Renaissance Festival will not disappoint. This festival has many events and games scattered around the festival and for free. As long as you pay to go to the festival, no payment is required but tips are very much appreciated. Even offering a "School Day Program" to offer students an exciting opportunity to learn about 16th century history.
Some fun and engaging activities include the "Mud Show," which is a comedy performed that illustrates an amusing twist on some classic fairy tales including Rapunzel and Sleeping Beauty, going so far as pulling members from the audience to join in on their ridiculous acts. Another comedy performance was "The Washing Well Wenches," where two ladies pull a few men from the crowd and try to find a match for each other. Another compelling show was the Live Steel Fighting, where the audience watches two knights sword fight on foot.
The games at the festival were delightful as well, Tomato Torture is a fun game where a performer will "talk trash" until you hit him with a tomato. However, some people got so into it that they started to spend an extravagant amount of money on a basket of tomatoes to throw after hearing these fake insults hauled at them. Some games had prizes, such as the Hang Bar where participants must hang on the bar for one minute to earn a $100 prize.
Not only were there comedy shows, but there was also a band called "The Reelin' Rogues," which plays surprisingly good music, yet there were not many lyrics in the songs they played. They are a group who make music inspired by punk rock and folk music, and even have a backup dancer who will interact with the crowd from time to time.
The food at the festival was also pleasant, serving foods from all over the world. Everything from a soft serve ice cream cone to help cool you down during the hot day or a warm chocolate chip cookie to enjoy during some of the shows or try one of their famously huge turkey legs they are known for. Delicious drinks are served as well, and if you feel generous enough to tip the owners, they will shout in delight and appreciation.
Many people at the festival love to dress up. If you perhaps do not have your costume in time, do not worry. There are many shops at the festival selling various clothes from the Renaissance era such as corsets, boots, cloaks or a variety of them all. Vendors even sell fake movable pets and puppets to make visitors' costumes more lively. Besides clothing and souvenirs, body art and paintings were a popular choice as well. Visitors could also get a henna tattoo, face painting and caricatures for a fun experience for everyone at the festival.
Whichever events you choose to participate in, you are sure to leave the Renaissance Festival with lasting memories of fun and adventure. While rickets are $32, all the events inside the event are included. Even just to relax and have lunch, everyone is bound to have a good time at the festival.