Men's soccer closing in on another undefeated season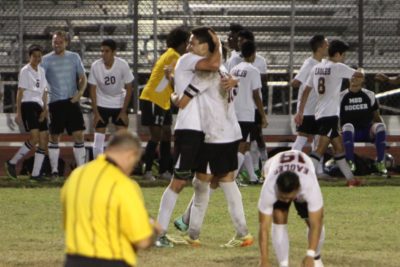 Amit Dadon
December 18, 2016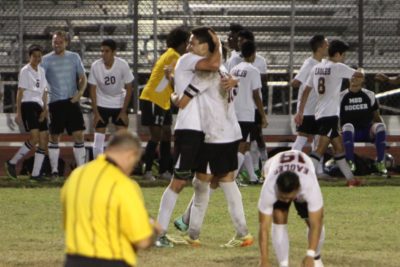 After coming off of a successful season last year, going undefeated with a record of 16-0-4, and making it all the way to the Regional Semifinals before losing to eventual State Champion Boca Raton Community High, then-junior midfielder Felipe Linares said to "Expect great things" from Douglas Soccer. And so far, they haven't disappointed.
Currently ranked 15th in the state and tied for 40th in the country, the team is again undefeated – having gone 9-0-3 overall and 6-0-2 in their district. With a three game win streak, the Eagles do not seem to be slowing down at all as the season begins to draw to a close, having beaten all of their district opponents at least once – save for Coral Springs High, who they tied 1-1 in a tightly contested match.
Not only have they carried over their success and fast-paced play from last year, but they have also improved upon the latter. On both the offensive and defensive ends of the pitch, the team has continued to improve upon its fast-paced offense and high-pressure defense. They currently rank as the third and second best in their district, respectively, behind only Monarch High School and Coral Springs in total offense – both of whom have played two more games than MSD – and Monarch again in strongest defense. In their nine wins, the team's average margin of victory has so far been just over two goals each; throughout the entire season, the Eagles have forced four defensive shutouts, and have allowed an average of less than one goal per game. In addition, having gone 9-0-3 so far through 12 games, they are on the same track record-wise as last year.
"Considering how far we made it last year, we are more experienced and cohesive as a team than ever," senior midfielder and co-captain Felipe Mendes, who currently leads the team with 9 goals scored, said. "If we keep working as hard as we are now, I definitely believe that we'll be great contenders for the state title once again."
Co-captain Casey Conn, who has so far tallied 2 goals and 4 assists as the team's middle defender, echoed Mendes's sentiments.
"After twelve games, we are no longer just a team – we are family," Conn said. "We always have each other's backs and that's what makes us so confident in our play; I'm very excited to see what our future holds."
This cohesiveness comes as no surprise, as most of the players are upperclassmen – many of whom were part of last year's undefeated team – with far fewer underclassmen and even fewer that get as much playing time. The players sees themselves as family, undoubtedly due to their bonding and hard training off the field, as well as their team-oriented style of play on the field.
"As a team, I can say that this is the best I have seen us in all of the four years I've been on the team – the chemistry we have is like no other," Linares said, now a senior.
Having been a key player in last year's run, Linares has missed most of this current season due to being sick with mono, and has only recently returned to the field, playing limited minutes in the past two matches.
"We are striving maintain our hot streak past the end of the regular season and on into the playoffs," Linares added. "This might be the best team we have had in Douglas history, and I truly think that we will advance much farther than last year."
The self-dubbed family looks to continue their win streak and maintain their undefeated record this Monday, Dec. 18th, in their away game against district opponent Deerfield Beach High School, who they already defeated in a 4-0 blowout earlier in the fall. With the way the Eagles are playing as the regular season nears its end, another deep run in the playoffs is well within reach. But this time, they aren't looking to stop at the Regional Semifinals – they're thinking bigger than that.