Before I Fall provides an interesting, heart-wrenching adaptation of novel
Rebecca Schneid
March 8, 2017
The story of a troubled young man or woman reliving a day in their life over and over again to learn a lesson is pretty commonplace in cinema and television, most everyone has seen it on there screen at least once or twice. And yet, the movie "Before I Fall," based on the novel by author Lauren Oliver, is still able to depict a riveting, edge-of-your-seat kind of story that is irresistible to any fan of the young adult genre,
After its release on March 3, 2016, "Before I Fall" opened to some disappointing figures in its opening weekend, only $4.9 million. But, while these numbers were not spectacular, the reviews reflect the creative ability of director Ry Russo-Young to transform Oliver's original vision of the novel to screen in an appealing and refreshing way.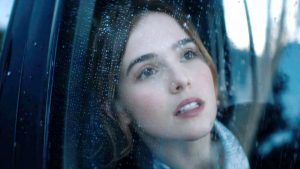 In this unusual and eye-opening journey, high school senior Samantha Kingston (Zoey Deutch) has everything she has ever wanted. She has a great group of friends, a loving  boyfriend (Kian Lawley), an active social life, and a future lined up for herself after high school. On Feb. 12, Samantha expects the day, which her high school has dubbed "Cupid Day," to be exciting and fun for her and her friends.
In a horrific turn of events, Samantha and her friends are involved in a car crash on their way home from a party that night-which instantly kills Samantha. By a stroke of luck and fate, Samantha wakes up, and is forced to relive the last day of her life over and over again. Throughout her heart-wrenching experience, Samantha must understand her role in the lives of others, her own path and the power that one day- even one moment-can have on one's future.
The development of Samantha as a character and a person is the highlight of this film. Each day that she relives, Samantha makes a new discovery about her own faults, and her own purpose in her life. One of the main issues she learns about, that many teens in high school have trouble acknowledging, is her own role in the pain and suffering of those around her. An important piece to the puzzle of why Samantha is reliving this day, and what will help her stop, is her classmate Juliet Skyes (Elena Kampouris).
Samantha and her friends have bullied Juliet since they were 11 years old. By reliving this day, Samantha begins to understand how much trouble her friends and her have caused and attempts to rectify their wrongs. In this way, Samantha is able to grow and Deutch beautifully plays this change in Samantha's character subtly and with the sort of emotion that anyone in times of confusion or pain can relate to.
What makes this lesson so compelling is it is not so black and white, good and bad, right or wrong. Samantha and her friends are not villains, and they definitely have both good and bad inside of them, as seen by the end of the film. Deutch shows this diversity of character in her ability to be sweet and caring, daring and brave, as well as rude and angry throughout the movie. What's important is the development of Sam's knowledge of sacrifice and love in her life.
The movie was not the best movie I have seen this year so far-not in the slightest. There was some dialogue that felt cliche, or fell flat. Furthermore, for a movie that presented itself as a horror/thriller movie, it wasn't the best in that department.
And yet, Young is still able to keep the audience excited and reinvigorated each time Samantha woke up to relive this day another time. Overall, the audience was captured by the story of growth in Samantha's sense of self, and her eventual sacrifice she makes to make things right in her world.