[Brief] Men's and Women's Water Polo both defeat Coral Glades
Robert Schentrup
March 10, 2017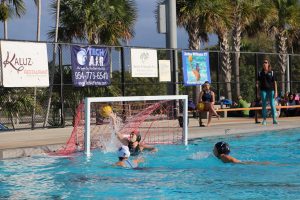 On March 7, the Marjory Stoneman Douglas men's and women's water polo teams faced off against District rival Coral Galdes High School in a match at Ft. Lauderdale High School. The women's game started at 4:30 p.m. and the men's followed up with a game an hour later at 5:30 p.m. For the first time this season, both the men's and women's teams went home victorious against the same opponent.
The men won in an 18-6 victory, with Areeb Sidduqui (11), William Berk (18) and captain Joey Wong (21) scoring four goals each. Additionally, Kyle Jones (1) racked up 10 blocks and two goals, while Trevor Berkson (12) added two goals of his own. Charles Lambeth (5) and Vinny Valdes (2) scored one goal a piece as well.
"Despite having never played Coral Glades before, I think we matched up well," Wong said. "We were confident from the moment we got in the water, and I think that how well we played today reflects that."
The women also won their game in a 12-8 victory, with Connie Sadar (21) leading with five goals and Zoe Cherry (11) scoring 4 goals. Also scoring were Isabella Cohen (6), Charlene Forti (9) and Lily Skopp (10), each of whom added one goal. On the defensive end, Daniela Ferandez (1) had an outstanding 13 blocks to lead the way for the win.
Their next game for both the men's and women's teams is this afternoon, March 10 – an away game against Westminster Academy, once again with the women starting at 4:30 p.m, and the men's at 5:30 p.m.