Growing popularity of K-pop in the West
Nikhita Nookala
September 6, 2017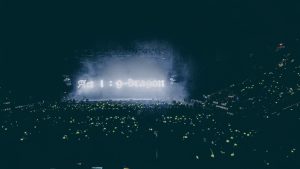 In recent years, Korean pop music, or K-pop, has come to the attention of many in the West. What used to be a genre for a niche audience has now become an international trend, garnering millions of online fans from the United States to Qatar.
Recently, the boy group BTS, or Beyond the Scene and formerly known as Bulletproof Boy Scouts, appeared on the Billboard Music Awards to win the Top Social Artist Award. The group has over 7 million followers on Twitter and sold over 60 thousand tickets to concerts in Newark, Chicago and Anaheim. Fans of all races and ethnicities can be found clutching light sticks for their favorite groups in sold-out stadiums across America.
The explosion of K-pop in the West can be traced back to the debut of Psy's "Gangnam Style," a song whose music video garnered over 1 billion views and became the first video to do so on YouTube. Before this, groups like Girl's Generation and Wonder Girls had appeared on The Late Show and So You Think You Can Dance, but had not gone so incredibly viral.
Even Western musicians take notice of the presence of Korean artists. Missy Elliot, will.i.am, Diplo, Tinashe and the Far East Movement are among several prominent figures who have collaborated with Korean artists, including CL, G-Dragon and Park Chanyeol.
Some Korean celebrities, such as Eric Nam and Amber Liu, have their roots in the U.S., creating a bond between them and their American fans. Singers John Park and Heejun Han were even contestants on American Idol, Han being the first East Asian male to make it to the final Top 9.
The language barrier between fans and their idols doesn't seem to deter them.
"I listen to K-pop because it's catchy. It's the same with Spanish and Bollywood music. Even though I don't understand the language, it's fun to listen to," junior Rishita Malakapalli said.
Foreign music in the United States comes and goes in waves, for instance, the popularity of Carlos Santana in the early 2000s and the extreme popularity of "Despacito" by Luis Fonzi and Daddy Yankee, which currently sits at the top of the Billboard Hot 100. The growing popularity of K-pop only goes to show the continuation of this trend, and the fact that despite cultural differences, music is the true universal language.