The annual Parkland Dash, a 5K run and 1 mile fun run, took place on Sunday, Oct. 8. The race began at Pine Trails Park at 7 a.m. and wound through Pine Island Road and Nob Hill Road. Every year, the City of Parkland selects a charity for the proceeds to benefit.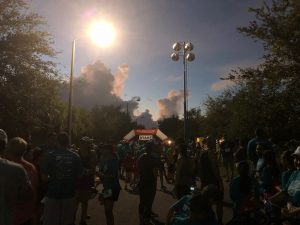 This year, the city chose the Crohn's and Colitis Foundation. The Crohn's and Colitis Foundation is a nonprofit and volunteer-based organization with the mission to develop the cures for ulcerative colitis and Crohn's disease. These diseases are grouped under the label IBD, or inflammatory bowel disease.
After the run at the awards ceremony, the city honored two individuals who suffer from this condition, Hanna Guttentag and Jake Goodstat, as well as their doctor, a pediatric gastroenterologist. Both are juniors in high school, and Guttentag is a student at MSD.
"The amount of support the local community had for IBD research means so much to me. I have been trying to create awareness since I was diagnosed; people need to be aware of these debilitating diseases," Guttentag said. "Having colitis has definitely made life more challenging at times but overall I have learned to appreciate the little things and make the most of what I have because I know in an instant, everything can change. I hope that through the Parkland Dash and other efforts I can create awareness for my disease and raise money to help find a cure."
Many other MSD students could be seen participating and volunteering at the event, assisting at stands and handing out water at checkpoints along the route. Among these students was junior Sindhu Kolla, who helped hand out water.
"Waking up at 5:30 was worth it, it was pretty fun," Kolla said.
Local businesses also took the opportunity to support the community by sponsoring the event and handing out supplies like drawstring bags, water bottles, drinks and energy bars.
However, while the Parkland Dash is an opportunity for the community to come together, it is still a race. This year, 39-year-old Robert Pulsifer took home the overall first place title, with 39-year-old Rachelle Ginsberg coming in second overall and first in the female category.
People from the ages of 3 to 70 participated in the dash, with even some infants being pushed around in strollers by their active parents. Everyone was handed a medal at the end, and provided with complimentary breakfast from Brooklyn Water Bagels.
Overall, the atmosphere of the park in the early morning hours was welcoming, one of camaraderie and neighborly support, and the Parkland Dash is definitely an event to participate in for residents who are looking for a fun, easy way to get a workout in the morning for a good cause.