*This story was originally published in the first quarter issue of the Eagle Eye*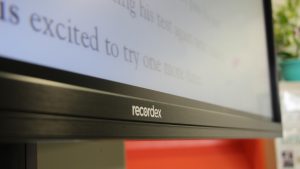 Marjory Stoneman Douglas High School has been making major changes in order to modernize the campus. Over the summer of 2017, the school installed Recordex Devices in several classrooms, which are large touch screen devices, in addition to the 10 classrooms that received them last year over Spring break. In total, the school as installed 29 Recordex devices over the past two years.
These boards help students with class work and interactive lessons through updated software. They also allow the teacher to access student computers, via split screens and share screens.
"It helps the students interact; it gives them a better view of how to handle the lesson and prepares them better for the delivery of the lesson for the teachers," Assistant Principal Maximo Rosario said.
These boards come with features such as colorful pens, a video monitor and a touch screen feature that allows the students to expand their learning through color association and hands-on approaches such as interactive games and videos. Recordex Devices also have their own wifi that can connect with computer carts in classrooms.
Recordex Devices engage students in their classes through powerpoints displayed on the screen, lessons and high definition videos.
"The color pens help me learn because when the teacher underlines different sentences in colors, it allows me to see the difference between the most important facts and the ones that are not as important," sophomore Hannah Levine said.
In addition to modernizing the classroom, the large screen enables everyone to see the board, even in wide classrooms.
"I have really bad eyesight and could never see the board when I was put in the back of the room, but now with the new Recordex Devices, I can see the board from wherever I am in the classroom," sophomore Rachel Nattis said.
However, some teachers feel that they should receive more training before the school takes a giant leap towards a more electronically based learning environment.
"I definitely think it does not hurt to have more technology," English teacher Katherine Posada said. "But if you don't know how to use it, it's useless."
All teachers have access to this new technology, even if it is not in their individual classroom.
"In the library, I have made some positive changes to keep up with the times. I have  [Recordex Devices] set up in the library. If you reserve time, essentially everyone does have access to these boards," Media Specialist Diana Haneski said.
The Media Center received the first Recordex. It was tested there to see if the students and faculty saw these boards as an effective way to work, and if they would like to see more in the future. Since they received positive feedback, the school started to install more.
"We want kids to be using them, not just teachers," Haneski said. "We want hands-on activities. Now we don't have to walk in front of a lamp [projector] on a cart. It allows the classrooms to be more interactive."
Broward County School District offered Recordex devices to schools who were interested in piloting the technology. Normally, these devices cost $5,000 each. The school did not pay for any of the Recordex boards and does not gain any revenue from using them, but they are interested in installing more in the future.
"The school is always trying to promote 21st Century technology into the curriculum," Rosario said. "Technology changes really quickly, so it's difficult for schools to keep up with that. However, when we get the opportunity, we try to do that."
Over the past few years, the school has updated computers and incorporated technology in weekly curriculum through sources such as Canvas. Today, textbooks and other school supplies are often found online.
As the school is evolving, so is its technology. Instead of typical bulletin boards in the hallways, MSD has installed new School Live screens, which are located throughout the school and display announcements and important dates, including club meeting times and football games.
"The purpose is to get messages out there, information, calendar dates so that way it lessens the amount of paper you're using. You can scroll and you can put a lot more information on it," Leadership teacher Danielle Driscoll said.
There are three School Live screens in the school, which were free of charge and to MSD from School Live.
"The company is the one that installs them. If anything happens to them they take full responsibility for them. The only thing we have to do is update our school information," Driscoll said.
These new digital bulletin boards and the Recordex devices, offer to the school community access to new technologies. They are just one of many attempts to create a more modern and interactive learning environment.