MSD sustains minimal damage from Hurricane Irma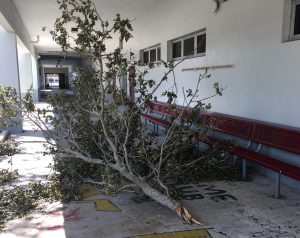 *This story was originally published in the first quarter issue of the Eagle Eye*
According to the U.S. National Hurricane Center, Hurricane Irma was the strongest hurricane ever recorded in the Atlantic. Irma devastated the southeastern Caribbean islands early on Wednesday, Sept. 6 as a Category 5 hurricane.
In order to prepare for Irma, teachers were issued guidelines through the govt. on websites like unclutterer to shut down computers, turn off all devices in their classroom and disconnect their equipment from any power sources. They also needed to cover all of their technology with garbage bags.
Teachers were instructed to lock their doors to prevent theft and move items in the classroom away from the windows and off of the floor.
Before the storm made landfall in Florida, Broward County Public Schools (BCPS) made the decision to close schools county-wide on Thursday, Sept. 7 and Friday, Sept. 8 as a safety precaution.
When Hurricane Irma struck South Florida on Sunday, Sept. 10, it was a Category 3 hurricane with wind speeds peaking at 89 mph. Marjory Stoneman Douglas High School was not in the storm's direct path and therefore, sustained minimal damage.
During the hurricane, the most significant damage at MSD was done to the landscaping. Many leaves and branches were ripped off of the trees due to the high wind speeds.
"The damages were mostly palm fronds, trees that fell down and we had a couple leaks," head facilities service person Eddie Suarez said.
There was also an estimated total of 15 small roof leaks in the 900 building.
Since no one was on campus during the storm, it is unclear when the power was lost, but the generator recorded that MSD was out of power for about 20 hours. The power was restored; however, the air conditioning remained nonfunctional.
"They had the air conditioning fixed within a day," Principal Ty Thompson said. "The district was good about getting out here to assess what was going on."
With the help of a 15-person custodial staff, all of the debris was raked up and collected into trash bags by Thursday, Sept. 14.
Schools remained closed for an additional week after the storm as BCPS assessed the damage to each school, made repairs, cleaned up debris and waited for power to be restored.
When BCPS reopened on Monday, Sept. 18, the United States Department of Agriculture (USDA) revealed that all Florida schools affected by Hurricane Irma would receive free lunch until Oct. 20.
"BCPS understands that many families are still without power across our community and are dealing with the devastating impact of Hurricane Irma. To ensure students have access to healthy meals, the district will provide free breakfasts and free lunches to all students at all schools for the next several weeks," BCPS said in a press release on Saturday, Sept. 16.
The lives of students and teachers were disrupted by the break from school due to Hurricane Irma. With BCPS closed for a total of seven school days, many things like tests, sporting events and even the homecoming dance had to be rescheduled.
"Hurricane Irma affected my school life by putting my classes behind schedule and forcing the teachers to overload us with work to get back on track," sophomore Jake Fox said.
While only time can tell how effective these measures will be, it is clear that with proactivity and a multi-tiered approach, the MSD faculty has at least created a conversation regarding a pressing school issue.