Senior Emily Mox commits to playing lacrosse at Slippery Rock University
Suzanna Barna
November 9, 2017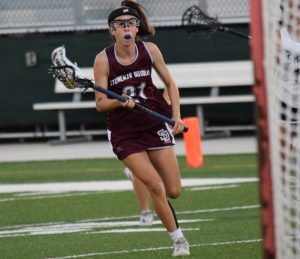 *This story was originally published in the first quarter issue of the Eagle Eye*
Emily Mox may have a love for lacrosse today, but in her childhood, she participated in two sports: soccer and lacrosse. As she matured, Mox realized she had to choose between the sports.
"When I started middle school, I made a decision that I needed to pick one sport and stick with that sport, so [since] I loved lacrosse, I stayed with lacrosse," Mox said.
She plays for Stealth, a travel lacrosse team in Parkland, and Marjory Stoneman Douglas Women's varsity lacrosse. Mox commits about seven hours each week to training as a midfielder and practicing the draw, the starting play where two players battle for the lacrosse ball.
Mox, set on living out of state, attended a training camp in December  2016 at Slippery Rock University in Borough County, Pennsylvania, where the coaches expressed strong interest in her skills.
Coincidentally, the Slippery Rock coaches told Mox that they would be attending the ESPN President's Cup in Orlando, a tournament Mox was already scheduled to play in. Impressed by her performance in the tournament, the coaches confirmed Mox's spot on the team with an academic and athletic scholarship. On April 15, 2017, Mox officially committed to SRU.
SRU of Pennsylvania ranks high in the NCAA Division II standings and has a serene smaller campus feeling, which Mox is excited to be a part of.
After her official visit, spending time and practicing with the team, Mox looks forward to beginning her college career. Since no professional lacrosse league exists, Mox plans on studying medicine in college to become a physical therapist.