Senior Jaclyn McKenna commits to Mississippi State University for softball
Suzanna Barna
November 9, 2017
*This story was originally published in the first quarter issue of the Eagle Eye*
Senior Jaclyn McKenna crosses the country each summer and fall in pursuit of one thing: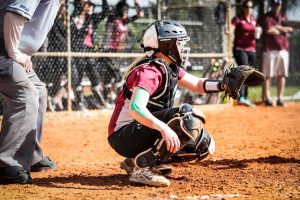 softball. Beginning at 7 years old, McKenna immersed herself in the sport. She eventually joined the Marjory Stoneman Douglas High School varsity softball team as a left fielder and catcher in addition to her role as a catcher in the travel organization, New Jersey Intensity.
McKenna plays with the New Jersey Intensity for tournaments, travelling across the country nearly every week in the summer and fall. Unfortunately, the distance prevents McKenna from practicing with the team. Instead, she practices and conditions on her own while also playing for MSD. Due to the constant physical demands, McKenna suffers from worn down ligaments and joints. She admits, though, that it is worth the pain.
"It's just school and softball; it's all I do," McKenna said.
The team's most anticipated tournament of the year is the Premier Girls Fastpitch Nationals in Huntington Beach, California. After placing in the top 15 last year, McKenna plans on attending the PGF Nationals for the fourth and final time this year. Her hard work and success in the travel league attracted the attention of Mississippi State University, and she commited to the university soon after.
At MSU, McKenna aims to continue improving her skills and to win the Division I NCAA Women's College World Series. She also plans on entering the sports management industry, unless her dream of getting drafted into the National Pro Fastpitch, the professional softball league, comes true.