Lil Miquela: real or fake?
Jordyn Laudanno
November 28, 2017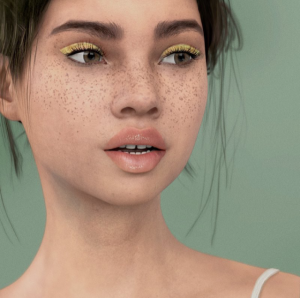 The "Lil Miquela" controversy has quickly garnered speculation by Instagram users since the page's creation in 2016, as people dispute whether this icon is a man, a woman or even real.
On her Instagram account @lilmiquela, she posts everyday images such as selfies, photos with friends and inspirational quotes. However, her eerie appearance has attracted the attention of a wide audience questioning whether or not she is a real person.
Many of her 455,000 followers have described her unusual look as "robotic" and "highly edited" in the comments of her posts.
"She is definitely fake, and I don't understand why people are questioning if she is real," senior Julia Bishop said.
Those who believe her to be a real person have considered potential users who could be behind the account. Instagram model Darth Bador was a popular candidate accused of being Lil Miquela, causing her to gain significant publicity as a result.
Despite her oddly digital-looking exterior, her captions and posts illustrate the semblance of the typical Instagram model posting photos with famous people such as youtuber Shane Dawson.
Dawson made a Youtube video sharing his thoughts about the conspiracy and consequently direct messaged her, asking for an interview to set her story straight.
Soon after, Lil Miquela agreed to do an over-the-phone interview with Dawson, but refused to participate in a video chat in order to continue the mystery behind her appearance. Shane asked questions such as, "who are you?" and "do you facetune or digitally change your pictures?"
Miquela avoided most of the questions by simply saying she is a normal girl. She responded that she is "just Miquela" and countered with "who doesn't edit their pictures on Instagram?" The ambiguous responses left the questions still hanging and fans confused.
"I'm just trying to make great art and make the world hurt less," Miquela said in the interview.
People also have accused Miquela of editing her photos in such an extreme manner as a publicity stunt to attract attention to her new album, "Not Mine," which is now on Spotify.  Her auto-tuned voice parallels the computerized image she has developed through social media.
The scrutiny acquired through the controversy inspired other accounts to post pictures with similar edits to Miquela, such as @karstinkle, whose pictures share many similar aesthetic qualities to @lilmiquela. Both girls possess features such as bangs and freckles as well as take an interest in digital art.
While this Instagram phenomenon has yet to be solved, Lil Miquela has surely made her mark on the social media world.