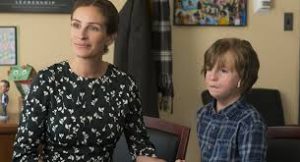 Adapted from best-selling book by Raquel J. Palacio, "Wonder" is a family movie sure to put a smile on its audience's face and tears in their eyes. Within the first week of its opening on Nov. 17, the movie garnered over $27 million in revenue and earned an 85 percent rating on Rotten Tomatoes.
The movie follows Auggie Pullman (Jacob Tremblay), a boy suffering from Treacher Collins Syndrome, which causes a severe facial deformity. As he starts his first real school experience, he realizes that his facial differences set him apart in both positive and negative ways. With his supportive family and new friends by his side, Auggie discovers that being different is not a horrible thing after all.
The movie causes viewers to reflect on the times they may have made fun of someone or when someone has made fun of them, making the movie not only entertaining, but also educating.
The movie is a reminder that everyone has an issue. Whether they show it physically like a facial deformity or if it is a hidden issue bottled up inside, everyone has one. Unlike many movies about bullying, "Wonder" does not present a tragic story intending to depress its audience. Rather, the plot captivates its audience though a lighthearted tale, exploring the positive reality of being different. The film features multiple breakthrough moments and has a satisfying ending.
"Wonder" features well-known actors such as Julia Roberts and Owen Wilson. Roberts plays the compassionate and worrisome mother, while Wilson portrays the comical father figure, adding an element of humor to an emotional film.
On top of the movie's notable actors, the director of the movie, Stephen Chbosky, also worked on "The Perks of Being a Wallflower," "Rent" and the recent Disney production starring Emma Watson, "Beauty and the Beast."
The lead role, played by 11-year-old actor Jacob Tremblay, portrayed his character flawlessly making him the perfect actor for this part.
The acting conveyed a realistic portrayal of real-world experiences without over-dramatizing  a version of reality like many other movies on the subject tend to do. Aside from some of the family's specific troubles, the majority of the plot instilled a sense of empathy in the viewers through relatable moments, despite the movie's unique protagonist.
"Wonder" is one of those movies that is suitable for everyone as it teaches a valuable lesson, while also telling a entertaining story. It impacts views on society because bullying is a major issue within schools all around the world and this movie is especially nice to see during the holidays when everyone can use heartwarming entertainment.