Marjory's Garden unites MSD organizations
Olivia Melamed
January 9, 2018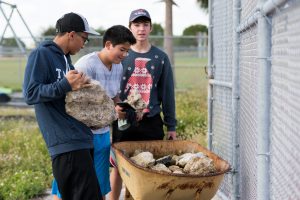 *This story was originally published in the second quarter issue of the Eagle Eye*
During the 2017-2018 school year, students have been working towards a more effective use of Marjory's Garden.
The garden, located behind the 900 building, aims to bring students together while helping the environment along the way.
Students that are part of activities such as engineering, culinary, and biology can all be included through the advancement of the garden.
"We have many plans for the garden. Right now we are working on building the classroom area," Marjory's Garden Committee sponsor Kyle Jeter said. "Mrs. Orillio and students working on planting things in the different beds and Mr. Simpson is working on building the hydroponics."
The garden is becoming a bigger part of our school. Its goal is to incorporate many different clubs and classes to interact with the environment. By having many different clubs take part, it will help the garden become more important and relevant to society.
"We want it to be a very interdisciplinary activity where we have people out there that are into biology and botany," said Jeter. "We want to have culinary out there growing actual vegetables and things that we can actually use."
The garden is beginning to add many new aspects to help the garden grow and become a functional part of MSD. Students and faculty just added a compost pile to recycle.
The Marjory's Garden Club is also trying to make benches out of recycled items for classrooms.
"Lauren Rosa's art class came out and made beautiful stoned tribute pavers for people who donated money," Jeter said. "They painted the beds and they are going to paint the benches for us. "
The Marjory's Garden Committee hopes the space will become somewhere that people can go to socialize. In the future, the garden club hopes to grow food to donate to the less fortunate or to sell at the farmers market.
"The sky's the limit," Jeter said "There are many things we can do with it [Marjory's Garden] if we want to. It just takes time, money, energy and effort."
A year ago there were no sidewalks and students built them by hand with stone. The stage, sidewalks and art that have been added to the garden helped transform the area from a patch of grass to a fun location on campus.