Student survey brings attention to school restroom sanitation issues
Lauren Newman
January 9, 2018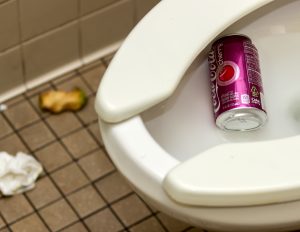 *This story was originally published in the second quarter issue of the Eagle Eye*
One of the most common complaints from the student body at Marjory Stoneman Douglas High School is the cleanliness of the bathrooms. A survey of 320 students at MSD found that 84 percent of the student body considers the school bathrooms to be either unclean or very unclean.
Administrators, teachers and other staff members share the perception that student restrooms are unhygienic.
"In the bathrooms… sometimes there is stuff all over the place," Principal Ty Thompson said.
The student body frequently encounters water on the bathroom floor, along with urine or feces.
"[The bathrooms are] terrible. During the day, I walk in and there is toilet water all over the floor and sometimes the toilet paper is completely out," senior Nicole Smith said. "Half the time, the dryers don't work unless you hit it really hard."
Other common grievances include a lack of soap and toilet paper.
"Although our school is fortunate enough to receive such luxuries of items in the bathrooms, and it is understandable that the money for toilet paper or soap has to be shared with regulated school equipment, I feel that it is sometimes forgotten that our hygiene is important," junior Alyssa Fletcher said. "Putting a little more time and thought into re-stocking our bathroom supplies would be appreciated by the thousands of students in the school."
The majority of students say the bathrooms have extremely dim lighting, excessive humidity as well as bugs. Students also report that there are broken locks and doors and rusty toilet paper dispensers. 85 percent of students surveyed reported they regularly encounter a putrid smell.
"There is little to no ventilation, creating a warm and pungent environment, which makes it difficult to breathe," junior Chris Garza said.
Moreover, 64 percent of students purposefully avoid using the restroom until they got home.
"For three years, and this is true, I avoided using the restrooms in the establishment, being repulsed by their presentations [characterized by] horrendous smell and lackluster appearance upon sight," senior Elijah Abraham said. "I would draw the source of this issue solely to the student population, as I have seen our custodial staff work hard to maintain a good degree of cleanliness in our school. I do not believe that a student should have to feel uncomfortable or threatened by the grimy surroundings caused by the selfish carelessness of others."
Administration maintains a strict protocol which governs the daily custodial duties and procedures.This daily custodial protocol, according to Assistant Principal Winfred Porter, includes cleaning the toilets, mopping the floor, replenishing the toilet paper and soap and sanitizing everything.
"The custodians are responsible every night for cleaning the bathrooms, restocking the toiletries, making sure that there is running water and so on and so forth," Porter said. "So they have a protocol that they must go through in order to ensure that those restrooms are clean and suitable. When there is damage to the restrooms, they close those restrooms down… They are responsible for making sure that those restrooms are clean and ready for opening at the beginning of every school day."
According to Assistant Principal Jeffrey Morford, who presides over all custodial activity, the bathrooms are cleaned daily between 2 p.m. and 10 p.m.
"I can tell you that in the morning, one of the first things I do with our head custodian, Mr. Suarez, he and I walk the building every morning. The bathrooms are spotless in the morning," Morford said. "What these kids do during the day in these bathrooms, we can't control. And we don't have the personnel to be cleaning them all day."
His words are echoed in the stance that administration has taken, suggesting that any discrepancies in the cleanliness of the bathrooms are due entirely to the students' irresponsibility in cleaning up after themselves.
"I think students need to be a little more intentional about keeping our restrooms clean throughout the course of the day," Porter said. "If they have an accident on the seat, it's okay to wipe it up. If they see that there is toilet paper, give it a flush."
Many MSD faculty members express a similar opinion and feel as though any extra effort made by custodial staff will only be met with apathy by the students.
"[The bathrooms] are gross, but that's because the students make them that way," geography teacher Ernest Rospierski said.
Surprisingly, many students agree with this sentiment. About 37 percent of students attribute the poor hygiene of the bathrooms to themselves, which stands in stark contrast to the mere 5 percent who believe that the primary cause of poor sanitation is solely custodial issues. The remaining 58 percent believe both are equally to blame.
According to the Florida School Health Administrative Guidelines in Section IV Chapter 21-1, "the Department of Education (DOE) and Department of Health (DOH) are jointly responsible under State law for regulating school environments. County health departments are responsible for enforcing minimum environmental health standards. In particular, DOH county health departments inspect the environmental health aspects of school buildings, grounds, shops, cafeterias, laboratories, restrooms, first aid rooms and any other area where school activities are conducted."
These statewide mandates require schools to maintain proper sanitation standards in student bathrooms, indicating that this, legally, is not a problem that can be neglected regardless of whose fault it is.
In a State of Florida Department of Health inspection report dated Oct. 12, 2017, MSD received no violations in the category of "toilet facilities,"indicating that those faculties do in fact meet the requirements set statewide.
"Health inspection probably looked at it at the beginning of the day or after the faculty did them," senior Diego Pfeiffer said. "The faculty does a great job. It is during the day that the bathrooms [become] dirty because it is the students who have no respect for their cleanliness nor the hard work of our faculty."
Nonetheless, students have organized initiatives in an attempt to reform the state of these facilities.
Peer Counseling's "Random Acts of Kindness" movement has inspired students to help upgrade the restrooms by providing soap, feminine hygiene products, toilet paper and other various "acts of kindness."
"I enjoy when peer counseling conducts the annual 'Random Acts of Kindness' because participants help make the bathrooms fresher," senior Nicole Anderson said.
Along with attempts to improve these conditions, new amenities at MSD such as the addition of the 1200 building have modernized some of the restrooms. Featuring a clean floor, more stalls, individual sinks and air-conditioning, the 1200 building bathrooms appear to be more inviting than the other, older bathrooms on campus.
"The freshmen building bathrooms have always been clean, having no water or toilet paper on the floor," senior Kali Clougherty said.
Additionally, in early December 2017, the renovation of urinals in the men's bathrooms began after a six-month process to get the project approved by the district. The new urinals will contain water in order to increase fluidity in the drainage system. According to Thompson, this will help eliminate the smell found in many of the restrooms.
However, a complete remodeling is unlikely since the control of such a process is not in the hands of administration, but controlled by the district. Thompson has requested several minor reforms as opposed to a complete remodeling due to the unlikely approval of such a large-scale project.
"That's one of those things I don't have control over," Thompson said. "Some of these things—I hate to say it—it's almost like putting on bandaids. It's sort of like you fix it as you go along. There is really no talk about a complete remodel of the current bathrooms… I know from past experience [that if] you ask for too much, you get nothing."
While some renovations are being implemented in the student restrooms, the issue of graffiti has yet to be addressed by the school.
"Somebody stood there and watched somebody else [graffiti the walls]," Assistant Principal Denise Reed said. "…When you guys decide you're so tired of that going on, then you want to contact somebody when you see it happening."
Several of these illustrations or messages depict some form of profanity or harassment. During a time when a large portion of the public's attention has been placed on putting an end to bullying, many schools around the country have made attempts at discouraging vandalism.
According to Cleaning & Maintenance Management Magazine, the best way to prevent graffiti in student restrooms is to upgrade the physical appearance of bathrooms and clean up present graffiti right away. Restrooms that exhibit unhygienic traits and are dimly lit provide a more attractive environment for vandals.
"Most of the bathrooms are either vandalized or filled with a bunch of students vaping at all times," sophomore Tony Infantino said. "The freshmen bathrooms aren't as bad as the rest of the school, but they're almost never unlocked when I check, so it doesn't even matter."
Many students who are involved in afterschool activities face the dilemma of caged up bathrooms after 3:30 p.m.
"[The doors are locked] because kids will vandalize everything, and you got to remember that no one is supposed to be on campus after 3:10 p.m.," Morford said.
Administration requests that students report maintenance and hygiene concerns in order to improve the current state of the school bathrooms.
"See Mr. Morford every time there is a concern with a dirty restroom or lacking toilet paper, lacking soap in the sink [or] water on the floor," Reed said. "We would be happy every single time that someone reported it to get someone in there to clean it up… You don't have to tell us who did it, but that it's been done."
To report a problem regarding the maintenance of any school restroom, students can contact Jeffrey Morford at [email protected] or at the front office.