The Eagle Regiment purchases new truck to haul instruments and props to competitions
Kevin Trejos
January 9, 2018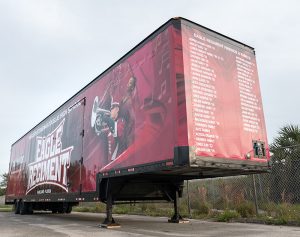 Preceding their journey to the 2017 FMBC state competition, Marjory Stoneman Douglas High School's Eagle Regiment purchased a new equipment truck with the help of both corporate and individual sponsors.
The new addition to the band family was emblazoned with a professional imprint on its sides by 2TU Creative Graphic Design.
The graphic design consists of Class of 2016 band graduate Kaitlyn Valenz and junior Mahalia Gourdet. The truck has a large Eagle Regiment logo at its center, and is colored a bright crimson red.The names of individual and corporate sponsors lie on the side of the truck.
The truck was dedicated to the late Julie Hurst, mother of band members Mackenzie Hurst and Austin Hurst, who passed away on Apr. 18, 2017, and the family of the former band director John Rusnak who passed away on Aug. 5, 2014.
"It feels good to have her dedication to this program on display for the world to see," Austin Hurst said.