MSD sponsors film viewing for mental health awareness
Nikhita Nookala
January 10, 2018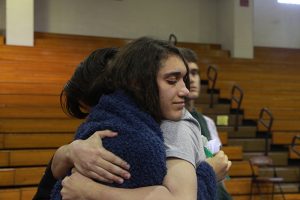 *This story was originally published in the second quarter issue of the Eagle Eye*
On Nov. 2, about 1200 students arrived and filed into the Marjory Stoneman Douglas High School gymnasium to watch "Listen," a film that aims to promote suicide prevention and mental health awareness. The showing was a result of Broward County Public Schools' initiative entitled "Listen—It Only Takes a Moment." This program was created in association with the Hope Sunshine Club, the Jason Taylor Foundation and the Bluapple Poetry Network.
The initiative was started by Michael Ramirez, the Broward County Public Schools director of the Office of School Performance and Accountability. Ramirez was invited by the Hope Sunshine Club of South Florida to view the film in Oct. 2016. Inspired by the message of the movie, Ramirez wanted to make sure that more people saw it, especially in light of the stigma surrounding mental health issues and the number of teen suicides nationwide.
"We wanted to let students know that they are not alone in the things they experience," Ramirez said.
Twenty-nine  Broward high schools have been scheduled to show the film, nine of which have already taken place. Each school committed $6,000 towards the movement, leading to a total of roughly $200,000 for the entire movement, according to Ramirez.
About a week prior to the event, students were informed that the Nov. 2 Professional Study Day would be dedicated to the showing of the film. They were given the option to opt-out of watching since the film contains sensitive topics. Students who opted out could either sit in an alternate location for the duration of the showing or stay home with an excused absence.
"Social emotional learning has been at the forefront over the past few years.  The district previewed the film last year with some HOPE clubs across the District and received great feedback," Principal Ty Thompson said. "The District decided to allow schools to show the film and follow up with active listener training, followed by instilling some curriculum into the schools."
Before showing the film, Director Erahm Christopher introduced himself and gave a brief speech about it to the audience. Christopher has directed several documentaries about troubled students, but this is his first feature film. 
"It's my belief that, after this experience today, that someone will feel less angry, less frustrated and less alone," Christopher said in his opening talk to the crowd.
Following Christopher's speech, juniors Sara Giovanello and Ramis Hashmi, who are associated with the Bluapple Poetry Network, presented poems to the crowd. The network focuses on encouraging local South Florida students to express their thoughts in the form of poetry, workshops, open mics and competitions.
"I'm very touched by the positive feedback Sara and I have been getting on our pieces. I just hope me coming out and talking about these things inspires anyone else who needs to talk and needs someone to listen," Hashmi said.
The film, a work of fiction inspired by true stories, follows six students and a guidance counselor in a New Haven school for troubled teenagers. All of the students face various real-life issues such as gang involvement, learning disabilities, body image issues, self-harm, pressure from parents and parental abuse.
After the film, Christopher noted that the actors who played the characters also faced similar problems in their real lives, which allowed them to portray the fictional students in a three-dimensional way.
"['Listen'] is not just a film, it's a movement," actor Josh Pafchek said in an interview with Good Day Sacramento.
The school day concluded with an emotional discussion with various MSD students and Christopher himself. Several students divulged personal experiences and struggles to almost one-third of the school. The crowd paid close attention, shouting messages of reassurance and encouragement.
"I remember I stopped being friends with someone because she called me fat, and it made me feel really bad about myself," senior Jenna Korsten said during the session. "I think what people need to remember is that there is a light at the end of every tunnel."
After school, approximately 30 teachers and select students attended  a follow-up workshop in the Media Center led by the director about active listening. The director showed the first 7 minutes of the movie again because he wanted the group to see what they did not notice before. He also implemented interactive exercises such as linking arms in certain patterns and setting participants up with partners to practice active listening. Christopher gave tips on how to be open-minded and engage conversation the right way. He emphasized not just listening with your ears, but with body language and other clues.
"After watching 'Listen,' it was very encouraging to be able to reflect on methods for more effective communication with my peers and teachers in an open and welcoming environment," junior Maayan Mizrahi said.
"Listen" calls into question the prominence of mental health education in schools, especially in public schools. In order to make the film as authentic as possible, Christopher spent 10 years with students on school campuses to learn the ways kids talk, interact and even harm each other. His work with these students is detailed in several feature documentaries as he taught and guided students in underprivileged schools to express their feelings constructively.
The film suggests that teachers need to pay more attention to their students' needs. One character in the film is driven to suicide because of the fact that a teacher misjudged his character and punished him for expressing himself instead of listening to his struggle.
"I think [teachers] need to redefine what listening really is. They need to realize listening is not just with ears, it's with the eyes, heart and mind," Christopher said. "[During communication], really understand what those five components to listening are: being open, being silent, being curious, being aware and being respectful."
Teachers were also given a private screening of the film before the student session, and they were invited to watch again during this time.
"I think [the film] was an important conversation starter for all students and teachers, and I think as a society we should look at mental health in the same way we look at other disorders and diseases," English teacher Donna Amelkin said.
As for next steps, the initiative has an accompanying curriculum that includes lessons about respecting peers, reading body language cues, and making sure to demonstrate interest in what the other person has to say. The teachers present at the after-school session were also educated on how to implement this curriculum in their personalization classes.
"Thirty teachers were trained in active listening on the day of the movie. We are currently waiting for curriculum from the writer/director to begin to roll out with the teachers that were trained," Thompson said. "This will be completely voluntary for those teachers."
Regardless of opinions about the movie, the film promotes a message of acceptance and understanding among peers. Though the characters in the movie could not be saved, students in real life still can be. It's time to listen.