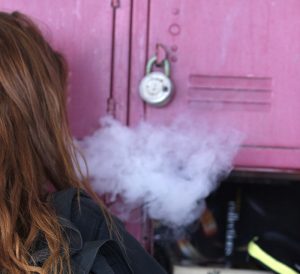 *This story was originally published in the second quarter issue of the Eagle Eye*
*Names indicated were changed to protect students' anonymity
Although teen cigarette use has seen more than a 15 percent decrease since 2000 according to the U.S. Department of Health and Human Services, the amount of teens who use e-cigarettes has skyrocketed. Since their introduction in 2004, e-cigarettes and vaporizers, more commonly known as vapes, have quickly become popular among teens. In fact, according to the Florida Health Department, 37.6 percent of Florida high school students have tried e-cigarettes at least once.
There are several vape products popular among teens today—two of which include JUULs and vape pens.
Invented in 2015 by PAX labs, JUULs are hand-held vaping devices that fall under the category of e-cigarettes. They look similar in size and appearance to a USB flash drive. JUULs are able to be refilled with JUUL pods available in flavors such as fruit medley, creme brulee and mango.
Each JUUL pod contains 0.7 milliliters of liquid which includes 5 percent nicotine. A JUUL pod contains an equivalent amount of nicotine to one pack of cigarettes, or about 200 inhalations. JUULs are relatively small; therefore, they can easily be hidden.
Vape pens are pocket-sized refillable vaporizers. The device is long and thin, resembling an actual pen. Their main purpose is for the typical e-liquid vapor, but they can also hold marijuana cartridges. Both JUULs and vape pens can be charged, similar to how a cell phone is charged. However, vape pens have a longer battery life than JUULs or typical e-cigarettes.
Vape pens also use a liquid that comes in different flavors, typically containing a third to a half of the nicotine found in a regular cigarette. Contrary to their "healthy" label, some of the chemicals used for e-liquid flavoring can put one's health in danger.
A common belief among vape users is that e-cigarettes and vapes are a healthier alternative to cigarettes; however, the use of e-cigarettes is not an FDA-approved nicotine replacement therapy, or way to quit smoking. Interestingly enough, many doctors actually see vaping as a gateway to traditional cigarettes rather than a method of quitting.
"Especially [now] that e-cigarettes are being used more and more recreationally at a younger age," pulmonologist Dr. Stephen Milan said. "That's certainly a concern that it's kind of opening up a door for people to get into tobacco use,"
While the FDA's label on vaping provides proof that they are evidently not an alternative to cigarettes, vape users continue to vape and potentially cause a long-term detriment to their health in doing so.
Vaping can result in significant damage to fibroblasts which are a type of stem cell involved in the maintenance of tissues. Consequently, vape users often exhibit an inability to heal wounds properly.
Additionally, vaping can cause chronic bronchitis due to frequent inhalation of irritating particles. An extensive period of time with chronic bronchitis may trigger permanent lung damage.
Equally as sobering is a recent finding from the Harvard School of Public Health regarding the ingredients in the liquid of e-cigarettes for flavoring. The university's research discovered that over 75 percent of flavored e-cigarettes and refill liquids tested by the researchers contained diacetyl, a flavoring chemical associated with cases of a severe respiratory disease called bronchiolitis obliterans, popularly known as "popcorn lung." The disease results from inflammation, which causes damage to the lungs' smaller airways.
Despite these legitimate health risks, many vape users still see vaping as a harmless habit because of its absence of tobacco. This is partially due to a lack of existing  research regarding the health risks. Teens reject the notion of possible long-term impact caused by vaping because abstaining from it is not encouraged as strongly as the push to abstain from cigarette use.
"Vaping isn't as bad because it doesn't have all the tar and stuff," senior John* said. "It's just nicotine; everyone does it to get buzzed."
The main ingredients in the liquid of a vape pen include either heated propylene glycol or vegetable glycerin. E-cigarette and vape users inhale this solution into their lungs and proceed to exhale, giving them a "buzz" with a temporary sensation of relaxation. However, they may experience side effects such as dehydration, dizziness, muscle soreness and allergies.
"The head buzz makes your head feel 'spinny,'" junior Robert* said. "At the same time, it just like relaxes you."
The "head buzz" that many vape users, known collectively as the "Vape Nation," crave is attributed to nicotine. As a psychoactive drug, nicotine is classified as a stimulant. Stimulants are said to activate motivational centers and reduce anxiety in the central nervous system. These drugs are characterized by increased activity of neurotransmitters, including serotonin, dopamine and norepinephrine. Other drugs in the same category include caffeine, amphetamines and cocaine.
According to the National Institute of Drug Abuse, nicotine is addictive because it activates a rewarding pathway in the brain's circuitry. Oral ingestion of large quantities of nicotine may cause poisoning and exposure can lead to lifelong addiction, which is why programs like Tobacco Free Florida work to discourage smoking of any kind.
Because of the rising popularity in e-cigarette usage, Tobacco Free Florida, an organization established by a state constitutional amendment that addresses the dangers of smoking and provides assistance to those attempting to quit smoking, has begun to focus more on e-cigarettes than traditional cigarettes. The company labels electronic cigarettes as a "current issue" on their website, detailing that the number of Florida high school students who were current e-cigarette users increased by 72 percent from 2014 to 2016.
The accessibility of e-cigarette and vape products is a driving factor for their popularity. Devices are available to order online or they can be bought in stores by those over 18 years old.
Even though vaping products are easily obtainable, under Florida law, it is unlawful to sell, deliver, barter, furnish or give any minors a nicotine product or a nicotine dispensing device. Additionally, it is illegal for minors to knowingly possess any nicotine products or nicotine dispensing devices. However, teenagers have found ways around the law to purchase vape products.
"People buy them from other kids whose parents let them order them online or in stores if they have a fake ID," Robert* said.
In recent years at Marjory Stoneman Douglas High School, students have often been caught on campus using electronic tobacco products including JUULs and vape pens.
"If they are just vaping, we take the vape," campus monitor Brian Staubly said. "If it's their first time, they've got at least a day in internal suspension."
According to the Broward County Public Schools Discipline Matrix, using, possessing and selling tobacco products can call for consequences ranging from parent contact to a six-day out-of-school suspension.
MSD's policy on vaping follows a three-strike method. Upon the first offense, the student is punished with one day in internal suspension. The next strike calls for a five-day internal suspension. If a student is caught vaping three times, then they will be penalized with a six-day out-of-school suspension.
Every vape product confiscated is tested to ensure that it is a typical vape product and not marijuana or any other illegal substance.
"We're testing to make sure there's no illegal drug like THC, the active ingredient in marijuana," MSD School Resource Deputy Scot Peterson said.
Students often use their JUULs or vape pens in the school bathrooms, school parking lots and even during their classes.
"I've caught three or four people with the vapes," Staubly said. "There are other people that have caught people over by the 1200 building or the gym bathrooms."
Because of their size and odorless vapor, students can vape in class without teachers noticing. It is common for students hide their JUULs in their pockets or sleeves and vape into their shirts.
"It's really easy to use my JUUL in class," sophomore Samantha* said. "My teachers never notice because it doesn't smell like anything, and I just wave my hands so the clouds fade away quickly."
Samantha is one of the many students at MSD who get away with vaping on a daily basis. However, some students have not been as fortunate, like in classes with more observant teachers.
"On the first day of school, I was walking down the hall and I happened to be walking next to a student," social studies teacher Sandra Davis said. "I asked him a question and instead of responding verbally, he just shook his head to the question… I knew something was going on, so I just stayed with him. We continued walking down the hall until finally, the student had to exhale and smoke came out of his mouth."
Davis escorted the student to the front office and he received a suspension.
"I don't understand the intrigue with [vaping]," Davis said. "Kids think it's a joke, but it's not allowed on campus and you don't know the long-term health risks."
Currently, there is no way to physically prevent vaping in the school because MSD does not perform any type of search without cause. Security will continue to discipline those who are caught vaping, but this does not necessarily mean that e-cigarette or vape usage will decrease at MSD.