Concert event Eats 'n' Beats combines food trucks and musical peformances
Taylor Morrison
January 10, 2018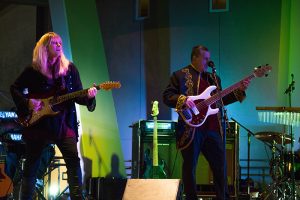 *This story was originally published in the second quarter issue of the Eagle Eye*
Eats 'n' Beats, which was originally called the "Concert Series," was renamed "Eats 'n' Beats" by Parks and Recreation Manager Gayle Vasile to better encompass the event's purpose.
"We changed the name of the event from Concert Series to Eats 'n' Beats because we wanted to bring some life back into the event," Vasile said.
Though it was established in 2013, the event only recently gained the popularity needed for it to become a regular occurrence in Parkland.
The early Concert Series involved only one band and a few food trucks, according to Vasile. An additional 20 food trucks and a second band were added to increase excitement over the event, ultimately resulting in the event's name change.
"By adding the additional features, we extended the event hours, and now residents can enjoy dinner and a show at the amphitheater," Vasile said.
Each event now features two bands and multiple food trucks, such as Waffle Wagon and Cheesezilla. Bands that are set to perform include the Pure Heart tribute band, Awall, Matthew Sabatella and the Rambling String Band.
Eats 'n' Beats currently has three dates planned during the 2017-2018 school year; however, the event coordinators have plans to establish an event on the second Saturday of each month year-round. The first one occurred on Nov. 11, and the following events will be held on Dec. 9 and Jan. 13 at the Pine Trails Park Amphitheatre from 5:30 p.m. to 9:30 p.m.
"Eats 'n' Beats hopes to create a consistent, free and family friendly event that people can look forward to the second Saturday each month," Parkland Parks and Recreation Special Events Coordinator Alexandra Valle said.
Eats 'n' Beats hopes to appeal to music and food lovers of all ages. It serves as a place for members of the community to come together in a shared space where entertainment and food is at their disposal.
"I really enjoy Eats 'n' Beats because it's a great way to eat really good food with friends while listening to good music," junior Crystal Tang said.
Eats 'n' Beats also offers various volunteer opportunities to students and members of the community.
"At the most recent Eats 'n' Beats, volunteers helped do some arts and crafts with the kids and give out glow sticks," Valle said. "By volunteering, students get hours for their required school volunteer hours."
Volunteers also helped hand out fliers and pamphlets at the Parkland tent. Students are encouraged to sign up to volunteer at the various Parkland events through the City of Parkland Human Resources Department. On the Parkland website, there is a link where volunteers can register.