Parkland Farmers' Market supports local businesses
Taylor Morrison
January 10, 2018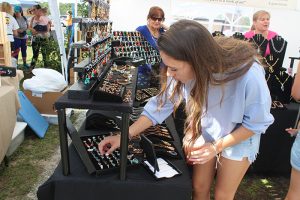 *This story was originally published in the second quarter issue of the Eagle Eye*
Parkland has numerous activities to offer its residents, including the Parkland Farmers' Market which serves as a way for Parkland residents to purchase goods from local businesses.
The Parkland Farmers' Market was established in 2006 as an event for local businesses to advertise and sell products. The Parkland Farmers' Market occurs two Sundays per month from November to April at the Equestrian Center, from 9:00 a.m. to 1:00 p.m.
The Parkland Farmers' Market is comprised of over 100 vendors from around Broward County. The event serves as a way for local businesses to promote their products to a new crowd of people.
"Vendors that come year after year get to know the shoppers, and it is a very friendly and close-knit environment," Parkland Parks and Recreation Special Events Coordinator Alexandra Valle said.
On top of its benefits for local businesses, the Parkland Farmers' Market also includes many volunteer opportunities for students and members of the community.
"We love to have student volunteers," Valle said. "We have volunteers at every Farmers' Market that help set up the Parkland tent with flyers, giveaways and information."
Volunteers also conduct surveys at the Parkland Farmers' Market. These surveys are used to find out where market goers live, how they found out about the market and what improvements Parkland can make to their farmer's market. The results of these surveys help Parkland understand what it should do to improve the market or its advertising strategies.
Various Marjory Stoneman Douglas High School students work with vendors in the Parkland Farmers' Market.
Juniors Lauren Snow and Olivia Feller, along with the company Art Paper Scissors, work at a booth where they do face painting.
"I enjoy seeing the happiness on kids' faces," Snow said. "Even something as small as face painting can really lift these kids' spirits."
Members of the MSD JROTC direct parking for service hours at the Farmers' Market
MSD students are encouraged to attend the Parkland Farmers' Market to stroll through the vendors or bring their pets, as the market is pet friendly.
"I enjoy being able to walk my dog with family and to observe all the different food items and things being sold," senior Mary Hutchinson said.
There are also pet related booths where animal lovers can purchase treats or other pet related goods.
The market has a variety of booths with interactive activities for attendees including arts and crafts and make-your-own cupcake booths.
Those who attend the Parkland Farmers' Market have the opportunity to support local vendors. The market offers locally grown fruits and vegetables from vendors like Benny Fruit and Vegetables, sea food from Seas Seafood Market, baked goods from Benson's Bake Shop and much more.
The Parkland Farmers' Market offers a great opportunity for a family outing or a chance for teenagers to hang out and volunteer. It is an excellent way for local consumers and for Parkland residents to become familiar with and purchase from Broward County businesses.