Rep. Ted Deutch answers students' burning questions
Nikhita Nookala
January 28, 2018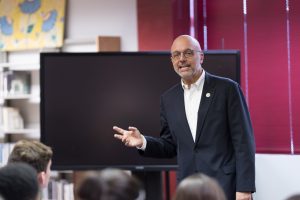 Rep. Ted Deutch (D-Fl) paid a visit to Marjory Stoneman Douglas High School on Jan. 23 for an event hosted by Politics Club and supported by the English Honor Society, National Honor Society and Rho Kappa.
The meeting was arranged by Politics Club President Kevin Trejos and sponsor Ariel Hertz. Trejos made contact with Deutch's assistant Theresa Brier, who he met at a meeting of the Congressional Youth Cabinet. The CYC is a student organization run by Deutch's office to promote civic engagement among students.
Deutch is the representative for Florida's 22nd Congressional District, which encompasses Parkland and Coral Springs as well as the coastline from Boca Raton to Fort Lauderdale. He spends most of his time on Capitol Hill serving on the House Ethics Committee, the House Judiciary Committee and the House Committee on Foreign Affairs. He is the senior Democrat in the House Ethics Committee, and a ranking member in the Foreign Affairs Subcommittee concerning the Middle East. He will be running for re-election in 2018.
Before the actual event, Deutch was able to sit down with senior David Hogg for a one-on-one interview. The two discussed such issues as the problems with teachers' income, student debt, money in politics and Russian propaganda in detail.
"Interviewing Congressman Deutch was a great experience," Hogg said. "I was honestly a bit nervous because this was one of the biggest interviews I've done for the school newscast, but my friends/co-workers on set help ease those nerves through their hard work and support."
As the town hall kicked off, Politics Club President Kevin Trejos introduced Parkland Mayor Christine Hunchovsky and Coral Springs City Commissioner Dan Daley to say a few words about Deutch. Both Hunchovsky and Daley praised Deutch for his involvement in the local area and commended students on coming out to the event.
Finally, Deutch took center stage and opened the floor up for questions from interested students after briefly introducing himself. The first question came from junior Ruitao Li, who brought up the recent 69-hour government shutdown and the next steps going forward for the government. Deutch then criticized the way that the president and congressional leaders handled the shutdown.
"When you run the government with short term bandaids like this, it doesn't provide a solution," Deutch said, referring to President Donald Trump's decision to extend government funding for an extra two weeks.
The congressman touched on many issues in his half-hour panel, such as North Korean tensions, tax reform and immigration. He was also asked a few personal questions, such as his views on the president. He chose to remain fairly diplomatic in his response.
"The president was elected in November, he took office, and starting that very first weekend, [he] has taken some actions that are really concerning to me, starting with the ongoing attacks via Twitter. He just shouldn't be tweeting the way he does," Deutch said.
He was also asked by one student how he got into politics. It had never been his childhood dream and was something he had stumbled upon because of his experiences in community service and campaign volunteering during college.
"Some of you in this room know exactly what you're going to do… that was not me," Deutch said.
One issue Deutch discussed was net neutrality — one that caught many students' attention just before the FCC's decision to end it.
"There is not an issue that has brought as many phone calls from young people as net neutrality," Deutch said. "Without net neutrality, the internet is no longer open and free… it makes it really hard [for aspiring developers and] stifles innovation."
Deutch ended his time at MSD with a question asked by junior Todd Hewling: "What are human rights?"
""Human rights are an aspirational value. Every person has the right to be recognized, every person has the right to live life without fear of oppression, without the fear of feeling fully confident to become whoever that person wants to become," Deutch said.
After Deutch left the media center, Mayor Hunchovsky and Commissioner Daley returned to take any questions about local government. Daley expressed the hope of the city of Coral Springs to develop a "downtown" area soon for shopping and entertainment.
Overall, the atmosphere in the meeting was respectful, informed and productive. Students were pleased to have direct contact with their representatives, and representatives were able to interact with future constituents. Politics Club anticipates to bring Congressman Deutch back to MSD next year as well, hopefully achieving similar results.
If students are interested in getting involved, Deutch's Congressional Youth Cabinet is now accepting applications for current sophomores and juniors.