Museum of Ice Cream comes to Miami
Richard Doan
February 5, 2018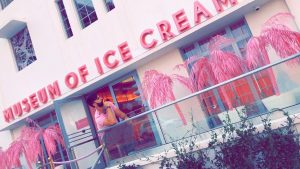 The popularity of the Museum of Ice Cream dates back to 2016 with their initial opening in New York and subsequent locations in Los Angeles and San Francisco. Since then, millions of people worldwide have visited the traveling exhibit, and its sweet vibrant displays have flooded social media. So far, over 125,000 Instagram posts have been tagged with #museumoficecream. On Dec.13, the Museum of Ice Cream brought its art-decorated architecture and creamy treats to the sunny Miami scene.
Although it is called a museum, it does not fit the traditional definition of the word. Instead of diving deep into ice cream's layered history, this "Instagram playground" immerses visitors in a truly interactive experience.
Within the Office for Metropolitan Architecture designed four-story building situated steps from the Atlantic, visitors explore the photogenic ice-cream themed displays. Among the features of the vibrant museum were a jungle of bubblegum palm treats, banana swings and a mini-pool brimming with 100 million plastic sprinkles.
"The sprinkle pool is the base will carry through the colors of Miami. There's a sensuality so unique to [this city]. The Latin, the different cultures . . . and we'll play with the indoor-outdoor feeling," Creative Director Manish Vora said in a Miami New Times article.
Co-founder and Creative Director Maryellis Bunn drew inspiration from Miami's urban and lively flair, which are integrated throughout the museum's eight rooms. Visitors can see Miami's influence on the museum just steps into the flamingo pink and pure white clad entrance.
"I came and lived here and really understood the culture and the people and wanted to respond to what I would think would be an addition to Miami and would also embrace the culture and history of Miami," Bunn said in a Miami article.
Past the entrance, visitors are welcomed by an "ice cream prophet," who offers an "ice cream reading" based on their pastel pink tarot cards' personality and dreams.
Next, visitors are carried into Bunn's Shake Room, where a conveyor belt transports mini chocolate milkshakes adorned with pink whipped cream and candied cherry. As visitors indulge in their creamy treats, they can enjoy the retro style of the gold glitter floors and rose colored room.
After, visitors can participate in a choreographed ice-cream inspired dance in FAN-tastic, a dance studio with fans shaped as oversized ice cream cones.
An ice cream safari of banana swings and a number of pastel pink sandcastles later, visitors conclude their visit within the Pop Room, where they can enjoy Miami inspired flavors as they overlook the lapping shores of the Atlantic Ocean.
At the end of an ice cream filled journey of frozen treats and vibrant sculptures, visitors can visit the museum shop so they can take a part of the experience home with them.
Anyone looking to visit the Museum of Ice Cream would have have been out of luck as tickets are sold out through the end of January. However, the museum elected to extend their stay in Miami through Feb. 26. Tickets are available online for $38 per person.