MSD alumna starts project to show worldwide support for MSD
Nikhita Nookala
March 5, 2018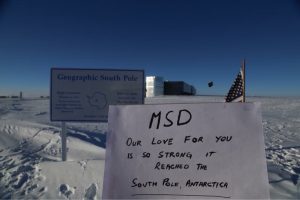 In a show of support for the victims and the survivors of the shooting at Marjory Stoneman Douglas High School, class of 2006 alumna Ashley Payanis Curtis has put together a collection of photos from around the country and the world with words of love.
Each picture has the words "MSD, our love for you is so strong, it has reached…" and the name of the location. Set to the tune of "Waiting on the World to Change" by John Mayer and "Fight Song" by Rachel Platten,  the video Curtis has created is a touching display of solidarity and unity for the students of MSD.
The project has already reached all 50 states, and several international locations, including Iceland, Sri Lanka, Grenada, Nigeria and Cambodia. Aside from the pictures in the video, new snapshots are being sent to Curtis all the time, and she plans to send a hard copy of all the love the world has for MSD to the school itself in the form of a book.
When she first heard about the horrific events of Feb. 14, Curtis was on her way to pick up her daughter. One of her friends, part of a group of former MSD basketball players and currently a speech pathologist working at MSD, alerted her to the situation. Curtis' first reaction was shock.
"Maybe it's a false alarm, I was thinking, I mean, this can't happen at Douglas," Curtis said.
Curtis was inspired by the MSD student activists speaking out about policies and the lack of governmental action, and decided to do something that would show the MSD community that they are loved, from all corners of the United States. In order to get this project off the ground, Curtis posted about her idea in a Facebook group for MSD alumni.
"Obviously, I saw a lot of students from Douglas speaking out about changes they wanted to see in the schools, and how to make them safer, and how to change policies, and I wanted to do something to help," Curtis said. "But I felt like they were very powerful voices, and I felt that the best way to help them was by spreading love."
After getting some response from alumni, she decided to also post on her personal profile also to get more exposure from around the world. The result was dozens of submissions in Curtis' inbox and comments, from all seven continents, including Antarctica. Curtis never expected this kind of response, and was a little overwhelmed at first.
"Originally I thought it would be just 50 states, but then it started flooding in, all the pictures," Curtis said. "Then, I started compiling all of the things together and realized we had six continents, then that's when I reached out to somebody to try to get Antarctica, the 7th continent, and someone knew somebody who knew somebody who was able to get us that picture. There are only seven people on Antarctica right now."
Curtis has one message for the students and faculty of MSD. She wants them to keep speaking out for what they believe in, and for them to know that the whole world is behind them and they are so loved.