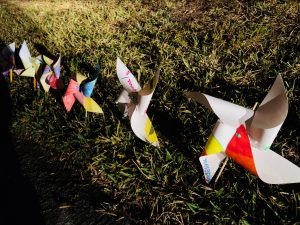 On March 14, students from Marjory Stoneman Douglas High School were greeted by 3,600 colorful pinwheels dotting the perimeter of campus. The pinwheels were tacked onto pencils and colored with supportive messages and well wishes. They were donated by students from Austin Elementary School, Dunwoody Elementary School and Kingsley Elementary School, all located just outside Atlanta, Georgia.
"Our students and faculty send kindness, compassion, hope and love and are thinking about the school community at MSDHS," a representative from the schools said. "The messages and kind thoughts on the pinwheels are a testament of the support we show."
The project was coordinated by English teacher Holly Van Tassel-Schuster, who received the donations from the schools. She then contacted prominent clubs at MSD, such as Key Club, National Honor Society, English Honor Society, Mu Alpha Theta and Politics Club to recruit students to help set them up.
Key Club Vice President Bryan Mai coordinated with other clubs to arrange service hours and meeting places. He, along with Key Club President Brandon Mai, organized the event with Van Tassel-Schuster to ensure that all of the pinwheels had a home.
"I've always embraced inclusiveness and bringing people together, and when Mrs. Van Tassel told me that she had over 3,500 pinwheels coming in from Georgia, I knew that it would be a perfect moment to bring all the clubs together and get these pinwheels up in front of the school together," Bryan Mai said. "A lot of our ICC events have been on hold because of what happened, and I thought it would be nice to have a small little event to see everyone coming back together on the one month anniversary [of the shooting]."
The volunteers woke up much earlier than usual to arrive at MSD by 6:30 a.m., and due to the number of people that showed up, the project was mostly finished by 6:45. When students arrived on campus after 7 a.m., they were greeted with swirls of color and cheerful messages from children in the unusually chilly March morning. Especially on a day that was difficult for many students to return to school, many were happy to see yet another reminder that the world stands with MSD.