Junior Maddy Wilford continues recovery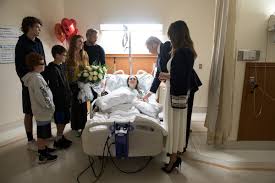 Taylor Morrison
April 2, 2018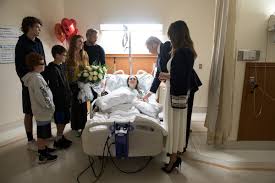 Junior Madeline Wilford's recovery following the events of Feb. 14, 2018 has been described as miraculous by first responders and doctors. Despite being shot three times- once in the chest, torso and right arm- Wilford is expected to make a full recovery.
Wilford was treated at Broward Health North, where she received three surgeries for her wounds: one on her forearm, another to repair her lungs and ribs and one on her abdomen. She was released from the hospital after just seven days on Feb. 24, and returned to school on March 5, five days after the rest of the student body returned.
"My first day back at school was welcoming," Wilford said. "I was able to say hi to all of my friends, and I received a lot of support."
Since being released from the hospital, Wilford has discovered that she can no longer complete some activities that were previously easy for her. Due to the cast on her right arm, Wilford is unable to write. Additionally, she cannot do any rigorous physical activity while she allows her lung to fully recover.
Wilford's cast is expected to be removed within the next few weeks, after which she will begin physical therapy.
"My physical recovery is going great," Wilford said. "I'm getting better every day, and I can see progress since I've been out of the hospital."
Mentally, Wilford is recovering well with the support and company of her friends and family.
"Just having my friends over and just being able to spend time with them to fill my free time is really helping me," Wilford said.
Since she was injured, Wilford has received a couple of special opportunities. She was visited in the hospital by President Donald Trump and First Lady Melania Trump. Additionally, Wilford was visited by The Heat, Dolphins, Marlins and Panthers at her home.