Memorial outside MSD is moved to FAU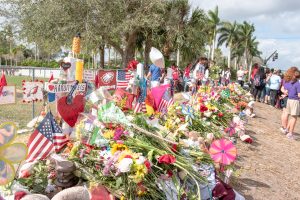 After the shooting at Marjory Stoneman Douglas High School on Valentine's Day, Feb. 18 was the first time people were allowed to approach the perimeter of the school. That was when the memorial outside the school began and continued to build as the public left flowers, letters, stuffed animals and candles around the 17 crosses and Stars of David that represented each victim of the tragedy.
Although the makeshift memorial was a place of prayers, grieving and leaving behind respect for the victims, it was also a location in which both students and adults protested for a change in gun legislation and for better school safety.
The memorial was preserved and left untouched for over a month until recently on March 28, when Jeff Schwartz, the president of the Parkland Historical Society, took with him a group of about 50 volunteers to the memorial. They packed all the mementos into a box for preservation after photographing everything first.
After Michael Kennedy, 37, and Kara O'Neil, 40, were accused of stealing items such as pinwheels and teddy bears from the memorial, Schwartz decided that they wanted to move the memorial to a more secure location. A Broward County sheriff's deputy found the items in the backseat of the couple's car, and they were charged with suspicion of removing or disfiguring a tomb or monument and ordered a $1,000 bond.
With all the items safely placed into different boxes, they plan on taking special care of them for future displaying purposes. There ended up being a total of over a hundred boxes, which they took to Florida Atlantic University's campus in Boca Raton for temporary preservation.
"I want these kids and these adults remembered for hundreds of years by preserving these items," Schwartz said in an interview with WPTV.
Schwartz plans to wait until all the items are carefully preserved and archived at FAU.
He hopes everything will be completed before the first year anniversary so the items can be set up in a display as a memorial.