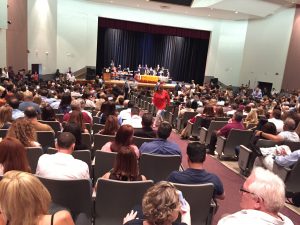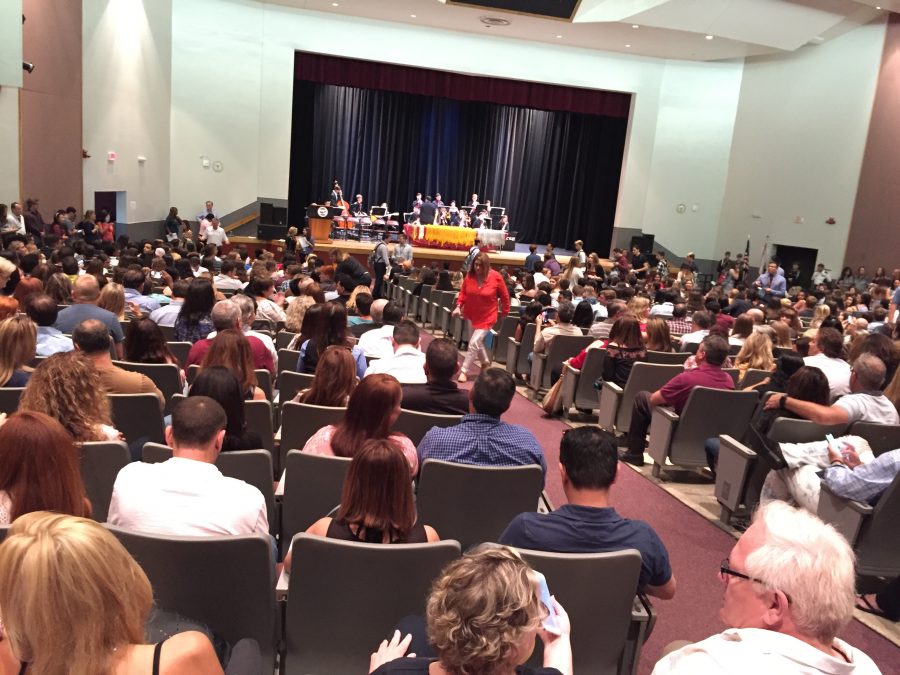 On April 11, at 9:30 a.m., the graduating seniors of Marjory Stoneman Douglas High School gathered in the auditorium for the annual cord ceremony. With every seat in the auditorium packed with students and parents, over 50 percent of the graduating class of 2018 were granted gold cords for having a weighted GPA of 3.75 or higher, and those who earned over 250 service hours over the course of four years were given silver cords.
The event began with the Pledge of Allegiance and a moment of silence for the 17 fallen Eagles, followed by a speech delivered by Principal Ty Thompson, in which his suggestion of moving the graduation ceremony from Nova Southeastern University to the BB&T Center in Sunrise was greeted by immense enthusiasm by the crowd.
As the cord ceremony began, guidance director Terrence Sullivan read off the names of the students who would graduate in the top 2 percent of the class and receive a "highest honor" gold cord. As the list reached an end, Sullivan read the name, Benjamin Wikander, a senior who was seriously wounded on Feb. 14.
While each student receiving a cord was applauded, Wikander received a standing ovation that lasted approximately 30 seconds. The crowd cheered, clapped and rose from their chairs to recognize the achievement of a student who managed to maintain an extraordinary GPA despite coping with several injuries over the past two months.
"The standing ovation made my heart swell with pride and made me feel grateful for the love and strength of my Douglas family," senior Devon Weisenfeld said.
Weisenfeld, a close friend of Wikander, describes him as extremely hardworking and dedicated to his studies.
"Ben is the type of student who succeeds in everything he does with a surprising amount of humility and grace," Weisenfeld said. "Regardless of the subject, Ben absorbs material like a sponge and understands how to succeed while juggling extracurriculars, time with his family  and hanging out with friends."
Despite the widespread support for Wikander and his recovery, he was unable to attend the cord ceremony. He is currently finishing up his senior year in virtual school and plans to graduate on June 3 with the rest of the senior class. Weisenfeld, as per the request of Wikander's mother, accepted the cord in his honor and plans to deliver it to him soon.
"I felt deeply honored and thankful for the opportunity to represent Ben. I am so proud of him and wish he could have been there to experience the beautiful display of support," Weisenfeld said.
Wikander was also a recipient of the silver cord for his commitment to volunteering in the community. In turn, the community prays for his steady recovery and applauds his academic success at MSD.