Xtreme Action Park offers free admission to MSD students
Tara Gaines
April 26, 2018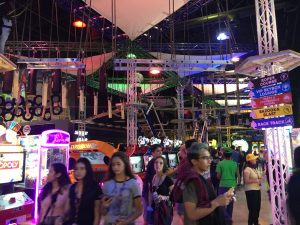 On Monday, April 23, Xtreme Action Park offered free admission from 5 p.m. to 10 p.m. to all students of Marjory Stoneman Douglas High School as a way of showing their support following the events of Feb. 14. Their main goal was to create an entertaining, fun experience and a day where high school students could play games to lift their spirits.
Xtreme Action Park, located in Fort Lauderdale, Florida, usually charge anywhere from $10 to $100 in tickets, rides and passes for a variety of attractions. However, for faculty and students of MSD, the park offered the same attractions for free.
Not only did the facility offer free admission, but they also gave each MSD student or faculty member a t-shirt that said "Eagle Day at Xtreme Action Park," a voucher for a free slice of pizza, a cup of ice cream and a fountain drink.
This was all started by the collaboration of both Xtreme Action Park staff and students at MSD. Details about the event were posted on numerous social media pages and included a link to sign up for the event, a list of items to bring, different modes of transportation and the activities included.
"When I first heard about the event, I was super excited and texted all my friends asking to go. It let us feel like kids again, and my favorite part was laughing with the people I love most, and the ice cream of course," junior Jamie Morris said.
At the park, students were able to play arcade games, race in go-karting, use the ropes course, use the glow-in-the-dark trampolines, roller skate, go bowling and enjoy a multitude of other activities.
"My favorite part was the simulator ride. It was a lot of fun and brought me back to when I was younger. I also enjoyed playing basketball and doing flips on the blacklight trampolines," sophomore Joseph Primavera said.
Xtreme Action Park stated that they felt that it was important that the park was private to only students and faculty. Because of this, they did not inform the media of the event beforehand in order to prohibit aggressive press coverage and journalists awaiting for the attendees.
Xtreme Action Park provided free valet parking and an 80 percent discount on all Lyft rides to and from the event with a special code. Since the event was held from 5 to 10 p.m., students were able to pick which time slot worked best for them.  
"To get to the park, I carpooled with a bunch of my friends. We all drove down together and it was a fun time," sophomore Cameo Jordan said.
Overall, this event was a hit for many and the company is one of the many organizations that have attempted to restore a sense of happiness in the community.